This message was sent to ##Email##
To advertise in this publication please click here
Video game addiction, or how the World Health Organization stumbled into a diagnostic quagmire
Counselor Magazine
In 2018 the World Health Organization (WHO) announced plans to include "gaming disorder" in the future International Classification of Diseases (ICD). Far from solidifying a consensus on whether this disorder is "real" or not, the WHO touched off the tinder of an ongoing debate about gaming overuse that had been simmering for decades. This controversy relates not just to the pathologizing of a hobby, but how we conceptualize addictions more generally, and has implications for diagnosis widely.
| | | |
| --- | --- | --- |
| | | Epigenetics is a new and groundbreaking concept in the field of psychology and mental health. Epigenetics research is revealing that our genes can actually turn on or turn off in response to what happens in our life and how our environment affects us. |
Enhancing our serenity: The distinction between remorse and guilt
Counselor Magazine
I recently read an article concerning a dialogue between Buddhist teacher Sharon Salzberg and Rosanne Cash (Johnny Cash's daughter) that I am sure will profoundly change my life. In this dialogue, Salzberg makes an important distinction between remorse and guilt. In her words, "In Buddhist psychology, there's a difference between remorse and guilt. Remorse is the genuine pain of seeing that you blew it or could have done better, and you want to move on with determination to see more clearly. Whereas guilt is not having the ability to move on, it's being stuck . . . it's being frozen in time" (Salzberg, 2020).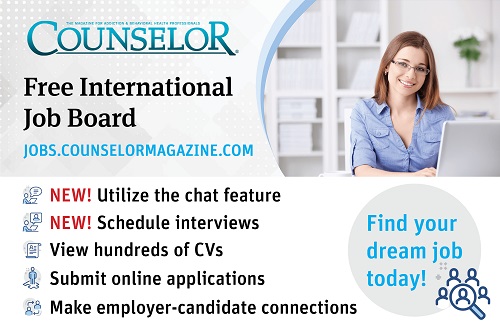 Stronger Than Your Drink

 ­ ­ 

The only free, global conference dedicated to the Sinclair Method (TSM).

14 Speakers
13 Panels
6 Countries
2 Days
1 Common Purpose: Advancing TSM Education and Awareness

Live on Twitch June 12-13, 2021




July 22
BHAP
[Webinar] The job search can be tough – no matter if you need a job or have one to fill. Join us for the free webinar, "Finding Your Dream Job or Candidate in Behavioral Health". For those looking, you'll learn best practices for evaluating a job opportunity in behavioral health. For those hiring, you'll learn how to attract and hire ideal candidates.
CE Quizzes Now Online!
Counselor Magazine
Earn up 1.5 hours of continuing education per issue just for reading Counselor, that's 9 CEs a year! CE Quizzes starting with February 2021, Vol. 21, Issue 1, are now on our new CE website. You can read the print magazine or subscribers can access the online articles at www.counselormagazine.com. CEs are 16.95 per issue, free for CCAPP Members. If you are a CCAPP Member, please contact CCAPP accounting to be added to the website and access free CEs. To visit the new CE website click here.
Certified Professionals
IC&RC
IC&RC can facilitate reciprocity of an IC&RC recognized credential from one IC&RC Member Board to another. Reciprocity can greatly ease the transition of a credential from one IC&RC Member Board to another, however, varying licensure laws, rules and regulations and scopes of practice from one jurisdiction to another can complicate reciprocity.
.

HEADLINES FROM THE FIELD

  
Prince Harry tells Oprah Diana's death led him to drugs, alcohol and anxiety
CNET
Prince Harry isn't done publicly sharing the struggles he's faced behind the curtain of royal life. Recently, The Me You Can't See, his new docuseries series exploring mental health, debuted on Apple TV Plus. In it, Harry tells series co-creator Oprah Winfrey how he fought to cope with the death of his mother Princess Diana in 1997.
The difference between social anxiety and shyness, according to a psychologist
Well + Good
Perhaps you've waited all of quarantine for authentic social connection — hugs, maskless conversations, eating outdoors because it's beautiful… not because it's a safety hazard to chow down inside. Yet now that you're mingling with others, you feel decidedly self-conscious, uncomfortable, even panic-y. You may be wondering: Do I have social anxiety, or am I just shy following a year with limited human interaction?
Mental Health Awareness Month: Choosing authenticity over false positivity
American Counseling Association
Nearly one in five adults in the U.S. live with a mental illness. That's nearly 20% of American adults. Yet somehow the stigma associated with mental health issues persists, causing many people to experience feelings of shame, vulnerability, and isolation. Helping people feel less alone by developing a better understanding of just how common mental illness can be is what Mental Health Awareness Month is all about.
Why you might feel more anxious in the summer
Spectrum News1
It's no secret that the weather outside can certainly affect our mood. The winter gloom, with its cloudy skies, cold temperatures and grey weather can even cause Seasonal Affective Disorder (SAD) and depression. While those of us who suffer look forward to the summer months, warm weather comes with its own set of effects on the human body and mind.
.

SPONSORSHIP & EXHIBITOR OPPORTUNITIES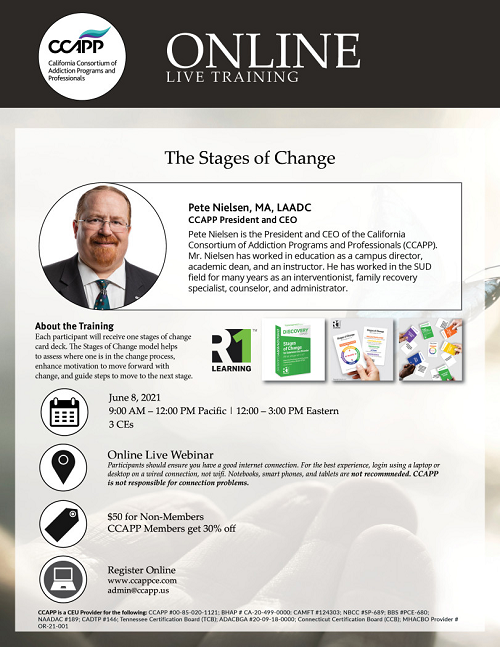 Counselor Magazine Weekly Digest

---

Connect with Counselor Magazine





Jason Zimmerman,

Director of Publishing, Multiview, 469-420-2686

 | Download media kit
Jacqueline Hansen, Senior Content Editor, Multiview, 469-420-2636| Contribute news

Counselor Magazine
PO Box 214127  |  Sacramento, CA 95821 
833-819-5015  |  Contact Us  |  www.counselormagazine.com

Click here to unsubscribe. 

Learn how to add us to your safe sender list so our emails get to your inbox.

















 
7701 Las Colinas Ridge, Ste. 800, Irving, TX 75063