This message was sent to ##Email##
To advertise in this publication please click here
Do personality traits influence addiction to online social networks?
Counselor Magazine
In recent years, the public has noted the negative consequences of online social network (OSN) use. Multiple research studies across different disciplines have also noted the considerable negative effects that some patterns of OSN use, most notably OSN addiction, may bring to users.
| | | |
| --- | --- | --- |
| | | Epigenetics is a new and groundbreaking concept in the field of psychology and mental health. Epigenetics research is revealing that our genes can actually turn on or turn off in response to what happens in our life and how our environment affects us. |
Examining antisocial personality and opioid use disorders from a psychodynamic perspective
Counselor Magazine
Many crimes are committed by individuals with antisocial personality disorder (ASPD), and ASPD and substance use disorders (SUDs) can be a deadly combination. As one often accompanies the other, differential diagnosis is an essential precursor to the treatment process. Differential diagnosis is particularly difficult for two reasons: first, the abuse of substances (legal or illegal) is common among individuals with ASPD, and second, alcohol and drug users often exhibit antisocial behavior that is secondary to their basic problem.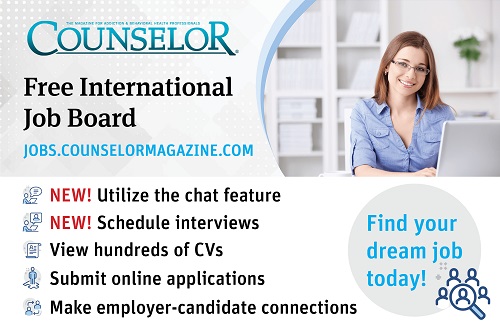 Building California and Beyond
Communities of Recovery
June 17th and 18th
Don't miss your chance to hear from leaders, and connect with RCOs and recovery leaders throughout the West Coast. Communities of Recovery's goal is to bring people in recovery, along with their allies and partners, together to educate, empower, and equip all communities of recovery in advancing advocacy and awareness.
July 22
BHAP
[Webinar] The job search can be tough – no matter if you need a job or have one to fill. Join us for the free webinar, "Finding Your Dream Job or Candidate in Behavioral Health". For those looking, you'll learn best practices for evaluating a job opportunity in behavioral health. For those hiring, you'll learn how to attract and hire ideal candidates.






Stronger Than Your Drink

 ­ ­ 

The only free, global conference dedicated to the Sinclair Method (TSM).

14 Speakers
13 Panels
6 Countries
2 Days
1 Common Purpose: Advancing TSM Education and Awareness

Live on Twitch June 12-13, 2021




CE Quizzes Now Online!
Counselor Magazine
Earn up 1.5 hours of continuing education per issue just for reading Counselor, that's 9 CEs a year! CE Quizzes starting with February 2021, Vol. 21, Issue 1, are now on our new CE website. You can read the print magazine or subscribers can access the online articles at www.counselormagazine.com. CEs are 16.95 per issue, free for CCAPP Members. If you are a CCAPP Member, please contact CCAPP accounting to be added to the website and access free CEs. To visit the new CE website click here.
.

HEADLINES FROM THE FIELD

  
Study: reduce depression risk by waking up earlier
Colorado Springs Gazette
Becoming a morning person — or at least training yourself to wake up earlier than usual — can lower your risk of depression, according to a recent study by researchers at the University of Colorado at Boulder. The study showed that waking up just an hour earlier can reduce risk of major depression by 23%. That's a big number, and worth a try — especially if you are prone to depression.
.

SPONSORSHIP & EXHIBITOR OPPORTUNITIES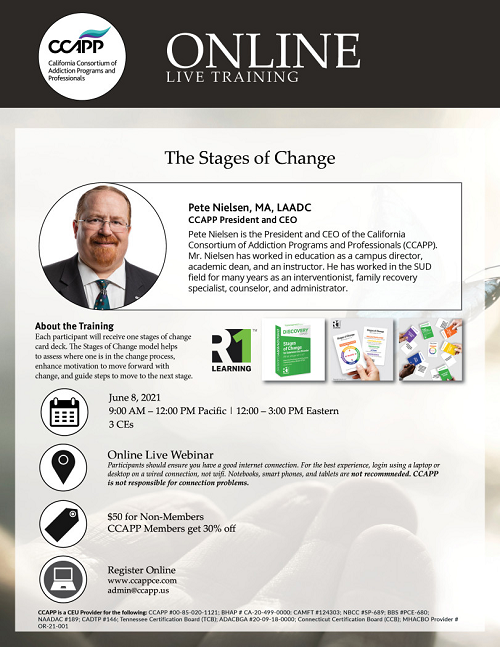 Counselor Magazine Weekly Digest

---

Connect with Counselor Magazine





Jason Zimmerman,

Director of Publishing, Multiview, 469-420-2686

 | Download media kit
Jacqueline Hansen, Senior Content Editor, Multiview, 469-420-2636| Contribute news

Counselor Magazine
PO Box 214127  |  Sacramento, CA 95821 
833-819-5015  |  Contact Us  |  www.counselormagazine.com

Click here to unsubscribe. 

Learn how to add us to your safe sender list so our emails get to your inbox.

















 
7701 Las Colinas Ridge, Ste. 800, Irving, TX 75063