This message was sent to ##Email##
To advertise in this publication please click here
Craving and Relapse Prevention
Counselor Magazine
Part II By Bob Tyler, BA, LAADC-CA, SAP, ACRPS In part one of the series, we introduced the dangers associated with the craving cycle: obsession, compulsion, physical craving and drug seeking behavior.
| | | |
| --- | --- | --- |
| | | Epigenetics is a new and groundbreaking concept in the field of psychology and mental health. Epigenetics research is revealing that our genes can actually turn on or turn off in response to what happens in our life and how our environment affects us. |
Can recovery-friendly communities be founded upon prevention?
Counselor Magazine
Historically, prevention activities have been seen as the early off-ramp for potential addictive behavior. It has been seen as the circuit breaker to the development of addiction; the promise of a life unaffected by abuse of substances. The philosophy that people could be insulated or inoculated from addiction makes sense to policymakers and the public, both of whom are ready to save our youth from the "scourge of addiction."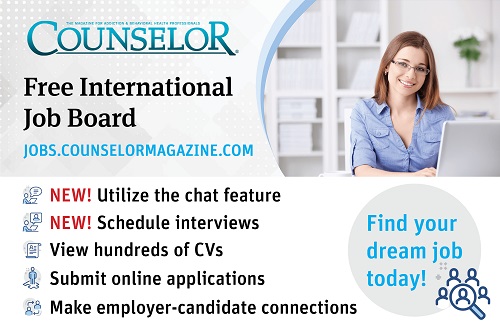 July 22
BHAP
[Webinar] The job search can be tough – no matter if you need a job or have one to fill. Join us for the free webinar, "Finding Your Dream Job or Candidate in Behavioral Health". For those looking, you'll learn best practices for evaluating a job opportunity in behavioral health. For those hiring, you'll learn how to attract and hire ideal candidates.
The Smoking and Recovery Toolkit is Now Available
Smoking & Recovery
The Smoking & Recovery Toolkit has been created to assist Treatment Facilities with implementing strategies to address the issue of smoking during recovery. It is widely recognized that there are very high rates of cigarette smoking among the Toolkit's population and that historically, facilities either look the other way or focus on cessation. The Toolkit offers solutions to best fit the needs of the individual during recovery with step-by-step guides for the organization.






Stronger Than Your Drink

 ­ ­ 

The only free, global conference dedicated to the Sinclair Method (TSM).

14 Speakers
13 Panels
6 Countries
2 Days
1 Common Purpose: Advancing TSM Education and Awareness

Live on Twitch June 12-13, 2021




CE Quizzes Now Online!
Counselor Magazine
Earn up 1.5 hours of continuing education per issue just for reading Counselor, that's 9 CEs a year! CE Quizzes starting with February 2021, Vol. 21, Issue 1, are now on our new CE website. You can read the print magazine or subscribers can access the online articles at www.counselormagazine.com. CEs are 16.95 per issue, free for CCAPP Members. If you are a CCAPP Member, please contact CCAPP accounting to be added to the website and access free CEs. To visit the new CE website click here.
Apply to the Substance Use Disorder Treatment and Recovery Loan Repayment Program
HRSA
Today, the Health Resources and Services Administration released the FY 2021 Application and Program Guidance for the Substance Use Disorder Treatment and Recovery (STAR) Loan Repayment Program (LRP). The STAR-LRP will provide repayment of education loans for individuals working in a full-time substance-use disorder (SUD) treatment job that involves direct patient care at a STAR LRP-approved facility located in either a Health Professional Shortage Area (HPSA) designated for Mental Health, or a county/municipality where the average drug overdose death rate exceeds the national average. Participants will receive up to $250,000 in exchange for six years of full-time SUD employment (including fellowship) that involves direct treatment or recovery support of patients with or in recovery from a substance use disorder. The program will support the SUD workforce by expanding access to SUD treatment through the inclusion of disciplines and treatment facilities that are not eligible for existing loan repayment programs. The STAR-LRP is open to master's level social workers, psychologists, counselors, marriage and family therapists, psychiatric mental health practitioners, occupational therapists, psychology doctoral interns, and behavioral health paraprofessionals and physicians, physician assistants, and nurses, who are involved full-time in SUD treatment employment (including fellowships).

HRSA anticipates making $28 million available to fund approximately 112 loan repayment awards in FY 2021. Applications are due by July 22, 2021, 7:30 p.m. ET.
.

HEADLINES FROM THE FIELD

  
Famous parents on the importance of supporting and celebrating their LGBTQ+ children
Essence
According to experts, LGBTQ young adults who receive support from their parents are more likely to have overall good mental health in comparison to youth who do not. They're less likely to struggle with depression, drugs and thoughts of harming themselves. We've also seen how children who are allowed the space and given the support to be who they are seem genuinely happy.
America has a drinking problem
The Atlantic
Few things are more American than drinking heavily. But worrying about how heavily other Americans are drinking is one of them.
.

SPONSORSHIP & EXHIBITOR OPPORTUNITIES

  
 

Counselor Magazine Weekly Digest

---

Connect with Counselor Magazine





Jason Zimmerman,

Director of Publishing, Multiview, 469-420-2686

 | Download media kit
Jacqueline Hansen, Senior Content Editor, Multiview, 469-420-2636| Contribute news

Counselor Magazine
PO Box 214127  |  Sacramento, CA 95821 
833-819-5015  |  Contact Us  |  www.counselormagazine.com

Click here to unsubscribe. 

Learn how to add us to your safe sender list so our emails get to your inbox.

















 
7701 Las Colinas Ridge, Ste. 800, Irving, TX 75063