This message was sent to ##Email##
To advertise in this publication please click here
Healing miracles
Counselor Magazine
The literature pertaining to health and medicine is replete with references to cases where patients have demonstrated so-called "spontaneous healing"—that is, instances in which serious illnesses somehow healed themselves in the absence of any medical explanation as to how recovery could have occurred.
| | | |
| --- | --- | --- |
| | | Epigenetics is a new and groundbreaking concept in the field of psychology and mental health. Epigenetics research is revealing that our genes can actually turn on or turn off in response to what happens in our life and how our environment affects us. |
Beyond tolerance: When will civil justice apply to people in recovery?
Counselor Magazine
As a child, I was told that words could not hurt. I remember repeating the old adage, "Sticks and stones may break my bones, but words can never hurt me." The reality is that words have power; they can heal or they can do harm. When people use words like "addict," "alcoholic," and "substance abuser," they are perpetuating a negative connotation of a life-threatening medical condition. Worse yet, those who stay silent while movies, social media, and casual conversations make jokes about people being "junkies," "meth heads," "burnouts," or "druggies" are collectively condoning behaviors that include the discrimination, alienation, and stigmatization of people who need treatment or are in recovery.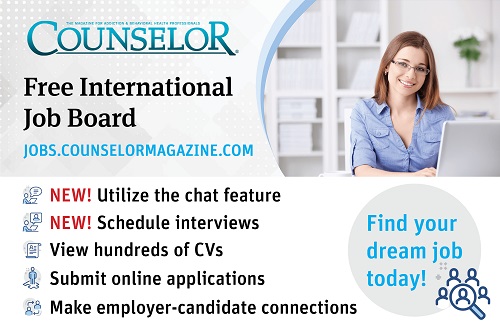 CE Quizzes Now Online!
Counselor Magazine
Earn up 1.5 hours of continuing education per issue just for reading Counselor, that's 9 CEs a year! CE Quizzes starting with February 2021, Vol. 21, Issue 1, are now on our new CE website. You can read the print magazine or subscribers can access the online articles at www.counselormagazine.com. CEs are 16.95 per issue, free for CCAPP Members. If you are a CCAPP Member, please contact CCAPP accounting to be added to the website and access free CEs. To visit the new CE website click here.
Rainbow Pride Series for LGBTQ Youth
Institute for Prevention and Recovery
Wednesday, June 9, at 6 pm
Queer Icons Throughout History
Click to register

Wednesday, June 23, at 6 pm
Self-Care: LGBTQ Edition
Click to register

Wednesday, July 7, at 6 pm
Exploring Gender & Sexuality in a Pandemic
Click to register
July 22
BHAP
[Webinar] The job search can be tough – no matter if you need a job or have one to fill. Join us for the free webinar, "Finding Your Dream Job or Candidate in Behavioral Health". For those looking, you'll learn best practices for evaluating a job opportunity in behavioral health. For those hiring, you'll learn how to attract and hire ideal candidates.






"Santé–the only right decision that ever mattered." –2018 Alumni





Our continuum of care is open to adults and their families seeking recovery from addictive substances and behaviors with a focus on dual diagnosis and trauma resolution.




Apply to the Substance Use Disorder Treatment and Recovery Loan Repayment Program
HRSA
Today, the Health Resources and Services Administration released the FY 2021 Application and Program Guidance for the Substance Use Disorder Treatment and Recovery (STAR) Loan Repayment Program (LRP). The STAR-LRP will provide repayment of education loans for individuals working in a full-time substance-use disorder (SUD) treatment job that involves direct patient care at a STAR LRP-approved facility located in either a Health Professional Shortage Area (HPSA) designated for Mental Health, or a county/municipality where the average drug overdose death rate exceeds the national average. Participants will receive up to $250,000 in exchange for six years of full-time SUD employment (including fellowship) that involves direct treatment or recovery support of patients with or in recovery from a substance use disorder. The program will support the SUD workforce by expanding access to SUD treatment through the inclusion of disciplines and treatment facilities that are not eligible for existing loan repayment programs. The STAR-LRP is open to master's level social workers, psychologists, counselors, marriage and family therapists, psychiatric mental health practitioners, occupational therapists, psychology doctoral interns, and behavioral health paraprofessionals and physicians, physician assistants, and nurses, who are involved full-time in SUD treatment employment (including fellowships).

HRSA anticipates making $28 million available to fund approximately 112 loan repayment awards in FY 2021. Applications are due by July 22, 2021, 7:30 p.m. ET.
.

HEADLINES FROM THE FIELD

  
3 types of inequality that worsen mental health
Mashable
When Dr. Amy Barnhorst treats patients for mental illness in county jails, emergency rooms and psychiatric hospitals, she sees more than the person standing before her. She takes in their life circumstances, too. That can include childhood trauma, food insecurity, neighborhood violence, unemployment and personal and institutional racism.
Selena Gomez slams society's impossible beauty standards
St. Louis Post-Dispatch
Selena Gomez has slammed society's "impossible beauty standards". The 'Lose You To Love Me' hitmaker wants to "challenge and eliminate" the pressure for people to look a certain way and she thinks that it's crazy that society "constantly tells us that we're not enough".
For transgender kids, gender-affirming names can be lifesaving
AMA
A landmark 2018 study in the Journal of Adolescent Health found that transgender youth who could use accurate names and pronouns experienced 71% fewer symptoms of severe depression, a 34% drop in reported suicidal thoughts and a 65% decrease in suicide attempts, the brief tells the U.S. District Court for the Southern District of Indiana in an amicus brief it filed with several other organizations.
Anxious about that party invitation? COVID-19 anxiety is common
LAist
On June 15, California businesses will reopen to full capacity and vaccinated people won't need to wear masks in most situations. As more people get vaccinated and restrictions loosen, it feels like things are beginning to shift. We're returning to backyard barbecues, drinking a beer with a coworker, going on first dates. But for many, just the thought is anxiety-inducing.
Venture funding for mental health startups hits record high as anxiety, depression skyrocket
Forbes
Intrepid investors started dabbling in mental healthcare over the past few years as part of a broader digital health funding boom, but many remained wary. Celebrity endorsements, like Olympic swimmer Michael Phelps' campaign with virtual therapy startup Talkspace, started to chip away at the long standing stigma, while mindfulness apps like Calm offered meditation sessions at the click of a button. But it was the Covid-19 pandemic and collective psychological fallout that finally mainstreamed mental health.
.

SPONSORSHIP & EXHIBITOR OPPORTUNITIES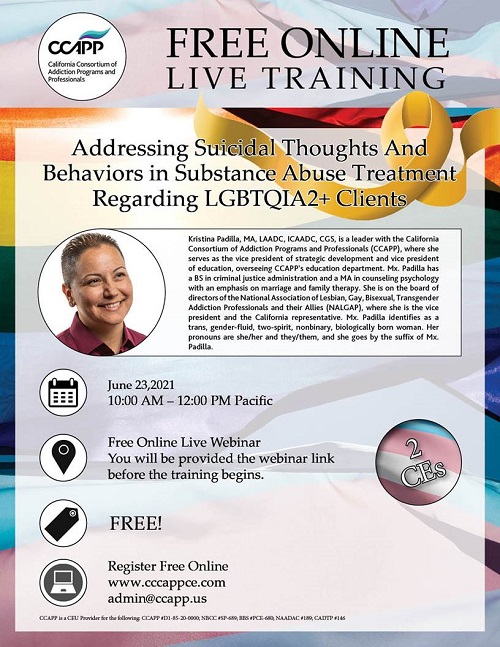 Counselor Magazine Weekly Digest

---

Connect with Counselor Magazine





Jason Zimmerman,

Director of Publishing, Multiview, 469-420-2686

 | Download media kit
Jacqueline Hansen, Senior Content Editor, Multiview, 469-420-2636| Contribute news

Counselor Magazine
PO Box 214127  |  Sacramento, CA 95821 
833-819-5015  |  Contact Us  |  www.counselormagazine.com

Click here to unsubscribe. 

Learn how to add us to your safe sender list so our emails get to your inbox.

















 
7701 Las Colinas Ridge, Ste. 800, Irving, TX 75063