This message was sent to ##Email##
To advertise in this publication please click here
Coming Out Loud and Proud: Treating Depression and Suicidality in LGBTQIA2+ Clients
Counselor Magazine
The coming-out process can feel both awkward and rewarding for clients. So much comes to mind when we talk about clients disclosing their sexual orientation or gender expression. Some clients experience happiness, relief, grief, pride, excitement, vulnerability, shock, anger, confusion, depression, suicidal thoughts, ups and downs, loneliness, isolation, fear, and/or anxiety, just to name some of the typical emotions brought about by this process.
| | | |
| --- | --- | --- |
| | | Epigenetics is a new and groundbreaking concept in the field of psychology and mental health. Epigenetics research is revealing that our genes can actually turn on or turn off in response to what happens in our life and how our environment affects us. |
Factors to Consider When Treating the LGBTQ+ Population: An Overview for Treatment Professionals
Counselor Magazine
Research estimates that approximately 51.5 million adults in the U.S. — 20.6% of U.S. adults — live with a mental health illness, and only 43.8% of that population received treatment in the past year (NAMI, 2021). Some fear the stigma about admitting they need mental healthcare, others are not aware they need help and the rest face a number of obstacles such as concerns about social distancing, not knowing where to find a good therapist, or work and family obligations that make it difficult to attend counseling.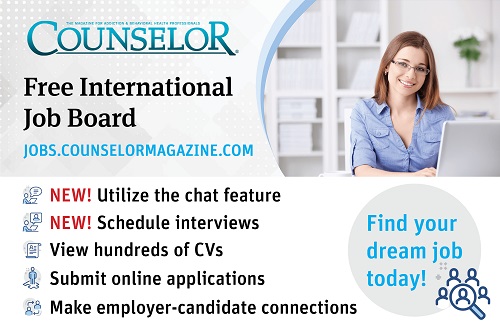 July 22
BHAP
[Webinar] The job search can be tough – no matter if you need a job or have one to fill. Join us for the free webinar, "Finding Your Dream Job or Candidate in Behavioral Health". For those looking, you'll learn best practices for evaluating a job opportunity in behavioral health. For those hiring, you'll learn how to attract and hire ideal candidates.
CE Quizzes Now Online!
Counselor Magazine
Earn up 1.5 hours of continuing education per issue just for reading Counselor, that's 9 CEs a year! CE Quizzes starting with February 2021, Vol. 21, Issue 1, are now on our new CE website. You can read the print magazine or subscribers can access the online articles at www.counselormagazine.com. CEs are 16.95 per issue, free for CCAPP Members. If you are a CCAPP Member, please contact CCAPP accounting to be added to the website and access free CEs. To visit the new CE website click here.
Apply to the Substance Use Disorder Treatment and Recovery Loan Repayment Program
HRSA
Today, the Health Resources and Services Administration released the FY 2021 Application and Program Guidance for the Substance Use Disorder Treatment and Recovery (STAR) Loan Repayment Program (LRP). The STAR-LRP will provide repayment of education loans for individuals working in a full-time substance-use disorder (SUD) treatment job that involves direct patient care at a STAR LRP-approved facility located in either a Health Professional Shortage Area (HPSA) designated for Mental Health, or a county/municipality where the average drug overdose death rate exceeds the national average. Participants will receive up to $250,000 in exchange for six years of full-time SUD employment (including fellowship) that involves direct treatment or recovery support of patients with or in recovery from a substance use disorder. The program will support the SUD workforce by expanding access to SUD treatment through the inclusion of disciplines and treatment facilities that are not eligible for existing loan repayment programs. The STAR-LRP is open to master's level social workers, psychologists, counselors, marriage and family therapists, psychiatric mental health practitioners, occupational therapists, psychology doctoral interns, and behavioral health paraprofessionals and physicians, physician assistants, and nurses, who are involved full-time in SUD treatment employment (including fellowships).

HRSA anticipates making $28 million available to fund approximately 112 loan repayment awards in FY 2021. Applications are due by July 22, 2021, 7:30 p.m. ET.






"Santé–the only right decision that ever mattered." –2018 Alumni





Our continuum of care is open to adults and their families seeking recovery from addictive substances and behaviors with a focus on dual diagnosis and trauma resolution.




.

HEADLINES FROM THE FIELD

  
In a murky sea of mental health apps, consumers left adrift
California Healthline
In the eyes of the tech industry, mental health treatment is an area ripe for disruption. In any given year, 1 in 5 adults in the U.S. experience a form of mental illness, according to federal estimates. And research indicates only about half of them receive treatment in a system that is understaffed and ill distributed to meet demand.
Pride Month special: Alcoholism in the LGBTQ+ community
The Fix
When you think of the LGBTQ+ community, what's the first image that comes to mind? Was it an image or a Pride parade or a nightclub? Since we've been a visible community, we've been associated with drugs and alcohol.
.

SPONSORSHIP & EXHIBITOR OPPORTUNITIES

  
 

Counselor Magazine Weekly Digest

---

Connect with Counselor Magazine





Jason Zimmerman,

Director of Publishing, Multiview, 469-420-2686

 | Download media kit
Jacqueline Hansen, Senior Content Editor, Multiview, 469-420-2636| Contribute news

Counselor Magazine
PO Box 214127  |  Sacramento, CA 95821 
833-819-5015  |  Contact Us  |  www.counselormagazine.com

Click here to unsubscribe. 

Learn how to add us to your safe sender list so our emails get to your inbox.

















 
7701 Las Colinas Ridge, Ste. 800, Irving, TX 75063