This message was sent to ##Email##
To advertise in this publication please click here
| | | |
| --- | --- | --- |
| | | Epigenetics is a new and groundbreaking concept in the field of psychology and mental health. Epigenetics research is revealing that our genes can actually turn on or turn off in response to what happens in our life and how our environment affects us. |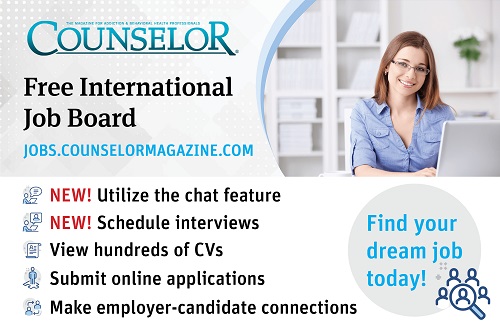 July 22
BHAP
[Webinar] The job search can be tough – no matter if you need a job or have one to fill. Join us for the free webinar, "Finding Your Dream Job or Candidate in Behavioral Health". For those looking, you'll learn best practices for evaluating a job opportunity in behavioral health. For those hiring, you'll learn how to attract and hire ideal candidates.






"Santé–the only right decision that ever mattered." –2018 Alumni





Our continuum of care is open to adults and their families seeking recovery from addictive substances and behaviors with a focus on dual diagnosis and trauma resolution.




Apply to the Substance Use Disorder Treatment and Recovery Loan Repayment Program
HRSA
Today, the Health Resources and Services Administration released the FY 2021 Application and Program Guidance for the Substance Use Disorder Treatment and Recovery (STAR) Loan Repayment Program (LRP). The STAR-LRP will provide repayment of education loans for individuals working in a full-time substance-use disorder (SUD) treatment job that involves direct patient care at a STAR LRP-approved facility located in either a Health Professional Shortage Area (HPSA) designated for Mental Health, or a county/municipality where the average drug overdose death rate exceeds the national average. Participants will receive up to $250,000 in exchange for six years of full-time SUD employment (including fellowship) that involves direct treatment or recovery support of patients with or in recovery from a substance use disorder. The program will support the SUD workforce by expanding access to SUD treatment through the inclusion of disciplines and treatment facilities that are not eligible for existing loan repayment programs. The STAR-LRP is open to master's level social workers, psychologists, counselors, marriage and family therapists, psychiatric mental health practitioners, occupational therapists, psychology doctoral interns, and behavioral health paraprofessionals and physicians, physician assistants, and nurses, who are involved full-time in SUD treatment employment (including fellowships).

HRSA anticipates making $28 million available to fund approximately 112 loan repayment awards in FY 2021. Applications are due by July 22, 2021, 7:30 p.m. ET.
CE Quizzes Now Online!
Counselor Magazine
Earn up 1.5 hours of continuing education per issue just for reading Counselor, that's 9 CEs a year! CE Quizzes starting with February 2021, Vol. 21, Issue 1, are now on our new CE website. You can read the print magazine or subscribers can access the online articles at www.counselormagazine.com. CEs are 16.95 per issue, free for CCAPP Members. If you are a CCAPP Member, please contact CCAPP accounting to be added to the website and access free CEs. To visit the new CE website click here.
.

HEADLINES FROM THE FIELD

  
#FreeBritney provides a good lesson on mental health stigma
Psychology Today
If you had told teenage pop-snubbing, Nirvana-loving, circa-2000 me that in 2021, I'd be writing a piece in support of Britney Spears in a publication with international readership, I'd have laughed you out of the room. However, twenty years and some perspective later, here we are.
'We can talk about this': Kids benefit when parents open up about mental health struggles
WBUR
Even before the pandemic, Ana Groves was well aware that working full-time and raising three kids was challenging. "I feel like I'm always just running around with my head cut off trying to do everything," Groves said of her life in suburban Foxborough. With the pandemic, came added responsibilities: monitoring her kids' remote learning and helping them adjust and feel safe. All of which triggered some difficult emotions.
Helping drug users survive, not abstain: 'Harm reduction' gains federal support
The New York Times
The thin young man quietly took in the room as he waited for the free supplies meant to help him avoid dying: sterile water and cookers to dissolve illicit drugs; clean syringes; alcohol wipes to prevent infection; and naloxone, a medicine that can reverse overdoses. A sign on the wall — "We stand for loving drug users just the way they are" — felt like an embrace.
Toxic workplaces can triple employees' risk of depression
Technology Networks
A year-long Australian population study has found that full time workers employed by organizations that fail to prioritise their employees' mental health have a threefold increased risk of being diagnosed with depression.
.

SPONSORSHIP & EXHIBITOR OPPORTUNITIES

  
 

Counselor Magazine Weekly Digest

---

Connect with Counselor Magazine





Jason Zimmerman,

Director of Publishing, Multiview, 469-420-2686

 | Download media kit
Jacqueline Hansen, Senior Content Editor, Multiview, 469-420-2636| Contribute news

Counselor Magazine
PO Box 214127  |  Sacramento, CA 95821 
833-819-5015  |  Contact Us  |  www.counselormagazine.com

Click here to unsubscribe. 

Learn how to add us to your safe sender list so our emails get to your inbox.

















 
7701 Las Colinas Ridge, Ste. 800, Irving, TX 75063