This message was sent to ##Email##
To advertise in this publication please click here
Antisocial personality and SUDs: An integrated approach to treatment
Counselor Magazine
When treating individuals in the justice system with a substance use disorder (SUD), it is not unusual for them to present with antisocial personality disorder (ASPD) as well. Unfortunately, it is often left unaddressed and not treated in an integrated way. Countless research has been devoted to the co-occurring treatment of mental health and SUDs, but rarely do you see programs citing treatment of substance use, the behaviors that caused them to be involved in the justice system, and ASPD symptoms in an integrated way.
| | | |
| --- | --- | --- |
| | | Epigenetics is a new and groundbreaking concept in the field of psychology and mental health. Epigenetics research is revealing that our genes can actually turn on or turn off in response to what happens in our life and how our environment affects us. |
Personal experiences addressing substance use issues in a health plan
Counselor Magazine
In February of 2017, Counselor published my article about integrating substance use services in psychiatric and medical systems. This article will discuss my experiences addressing the opioid epidemic and other substance use disorders (SUDs) during the past several years within an integrated delivery and payor system at the University of Pittsburgh Medical Center (UPMC) and its insurance division's behavioral health integration (BHI) department within the health plan. Although many initiatives have addressed SUDs, I will limit the focus of this article to education and training initiatives, clinical services, internal and external collaborations, advocacy for families and children, and dissemination of information and resources.
July 22
BHAP
[Webinar] The job search can be tough – no matter if you need a job or have one to fill. Join us for the free webinar, "Finding Your Dream Job or Candidate in Behavioral Health". For those looking, you'll learn best practices for evaluating a job opportunity in behavioral health. For those hiring, you'll learn how to attract and hire ideal candidates.
CE Quizzes Now Online!
Counselor Magazine
Earn up 1.5 hours of continuing education per issue just for reading Counselor, that's 9 CEs a year! CE Quizzes starting with February 2021, Vol. 21, Issue 1, are now on our new CE website. You can read the print magazine or subscribers can access the online articles at www.counselormagazine.com. CEs are 16.95 per issue, free for CCAPP Members. If you are a CCAPP Member, please contact CCAPP accounting to be added to the website and access free CEs. To visit the new CE website click here.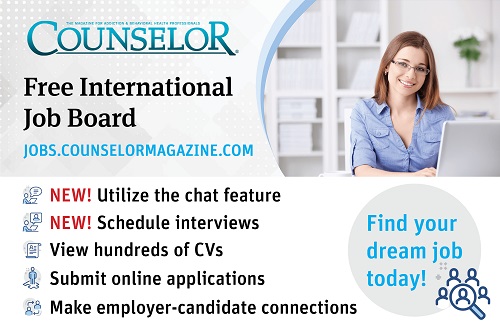 "Santé–the only right decision that ever mattered." –2018 Alumni





Our continuum of care is open to adults and their families seeking recovery from addictive substances and behaviors with a focus on dual diagnosis and trauma resolution.




Apply to the Substance Use Disorder Treatment and Recovery Loan Repayment Program
HRSA
Today, the Health Resources and Services Administration released the FY 2021 Application and Program Guidance for the Substance Use Disorder Treatment and Recovery (STAR) Loan Repayment Program (LRP). The STAR-LRP will provide repayment of education loans for individuals working in a full-time substance-use disorder (SUD) treatment job that involves direct patient care at a STAR LRP-approved facility located in either a Health Professional Shortage Area (HPSA) designated for Mental Health, or a county/municipality where the average drug overdose death rate exceeds the national average. Participants will receive up to $250,000 in exchange for six years of full-time SUD employment (including fellowship) that involves direct treatment or recovery support of patients with or in recovery from a substance use disorder. The program will support the SUD workforce by expanding access to SUD treatment through the inclusion of disciplines and treatment facilities that are not eligible for existing loan repayment programs. The STAR-LRP is open to master's level social workers, psychologists, counselors, marriage and family therapists, psychiatric mental health practitioners, occupational therapists, psychology doctoral interns, and behavioral health paraprofessionals and physicians, physician assistants, and nurses, who are involved full-time in SUD treatment employment (including fellowships).

HRSA anticipates making $28 million available to fund approximately 112 loan repayment awards in FY 2021. Applications are due by July 22, 2021, 7:30 p.m. ET.
.

HEADLINES FROM THE FIELD

  
'Safety First' Drug Education program acknowledges the failings of 'just say no'
The 74
Mim Shafer, head of the health department at Mission High School in San Francisco, and a teacher of three health classes, was disappointed with the school district's drug-prevention curriculum. She felt it was stuck in a "Just Say No" model from the 1980's, failed to acknowledge the differences between types of drugs, and didn't prepare teenagers for real life scenarios in which drug use occurs.
'Schitt's Creek' star Annie Murphy was 'unable to get up' during depression battle
WVIT-TV
Annie Murphy is opening up about the mental health struggles she experienced last year. The former "Schitt's Creek" star, 34, told The Zoe Report she got so depressed during the Canadian sitcom's farewell tour in January 2020 that she could barely perform. "I think I have a big dose of my dad's Irish melancholy," the actor said.
Depression and suicide-risk screening results in pediatric primary care
Journal of The American Academy of Pediatrics
Depression is common, and suicide rates are increasing. Adolescent depression screening might miss those with unidentified suicide risk. Our primary objective in this study was to compare the magnitude of positive screen results across different approaches.
Health clubs can play a role in mitigating the mental health crisis
Club Industry
One of the most pernicious legacies of the COVID-19 global pandemic is the mental health crisis. It is so severe that it is often referred to as the "parallel pandemic." Typically, in any given year, 27 percent of the population suffers from some form of diagnosable mental health issue. It is estimated that this percentage is now as high as 40 percent or more now, due to the effects of COVID — and it will only get worse.
Study: People with depression may not adapt as well to stress
Very Well Health
Depression can affect how people respond to and interpret curveballs sent their way. Now scientists at Emory University found that, due to a mechanism in the brain, people with major depressive disorder may not have the tools to be resilient in the face of chronic stress.
.

SPONSORSHIP & EXHIBITOR OPPORTUNITIES

  
 

Counselor Magazine Weekly Digest

---

Connect with Counselor Magazine





Jason Zimmerman,

Director of Publishing, Multiview, 469-420-2686

 | Download media kit
Jacqueline Hansen, Senior Content Editor, Multiview, 469-420-2636| Contribute news

Counselor Magazine
PO Box 214127  |  Sacramento, CA 95821 
833-819-5015  |  Contact Us  |  www.counselormagazine.com

Click here to unsubscribe. 

Learn how to add us to your safe sender list so our emails get to your inbox.

















 
7701 Las Colinas Ridge, Ste. 800, Irving, TX 75063