---
| | |
| --- | --- |
| Study: Private sector may not be ready for new veteran patients | |
Military Times
Lawmakers appear poised to send tens of thousands of veterans in the private sector for health care in an effort to provide quicker, more convenient appointments for an array of medical needs. But a new study casts doubt on whether private care providers can do that. Researchers from the Rand Corp. on March 1 released a new study of New York state medical providers that noted the majority of physicians working outside Veterans Affairs programs "know little about the military or veterans, are not routinely screening for conditions common among veterans, and are unfamiliar with VA."
READ MORE
| | |
| --- | --- |
| White House still reviewing IG report on VA secretary | |
CNN
White House press secretary Sarah Sanders said March 5 that the Trump administration continues to review a report from the Department of Veterans Affairs inspector general that found that Secretary David Shulkin misused taxpayer funds during a trip to Europe. "Secretary Shulkin has repaid, I know, several thousand dollars toward some of the travel costs of the trip that was in question, and we're continuing to focus on a lot of the great work that's taking place at the VA while that's still under review," Sanders told reporters.
READ MORE
| | |
| --- | --- |
| Senators seek budget flexibility for Pentagon | |
Defense News
A bipartisan group of senators with authority over military readiness are urging Senate appropriators to grant flexibility in spending its large, but late, budget boost for 2018. The seven senators on the Senate Armed Services' readiness subpanel have asked the leaders of the Senate Appropriations subpanel to consider changes, arguing Congress's tardy budgeting has unfairly penalized the Pentagon in a March 5 letter. The proposal is roughly in line with a proposal from the chairwoman of the House Appropriations Defense Subcommittee, Rep. Kay Granger, R-Texas, and others.
READ MORE
| | |
| --- | --- |
|   |  EANGUS NATIONAL OFFICE UPDATE |
---
| | |
| --- | --- |
| 2018 Scholarship Applications | |
EANGUS
The scholarship application period is now open.

Scholarships available from the following: American Intercontinental University, American Public University System, Colorado Technical University, Grand Canyon University, Grantham University, Sonoran Desert Institute, Virgil Williams Scholarship, EANGUS Patriots Scholarship.

For more information, visit https://eangus.org/we-care-for-america/scholarship-information/.

---
USAA Scholarship
STATE ASSOCIATIONS can request $1,000 to be used for educational expenses for a Soldier, Airman or Family Member. This year all requests must be submitted no later than August 20, 2018.

NOTE: This process is for state associations only and not individual applicants. Please click here for the scholarship form, and here for the requested W-9.
| | |
| --- | --- |
| New EANGUS podcast available! | |
EANGUS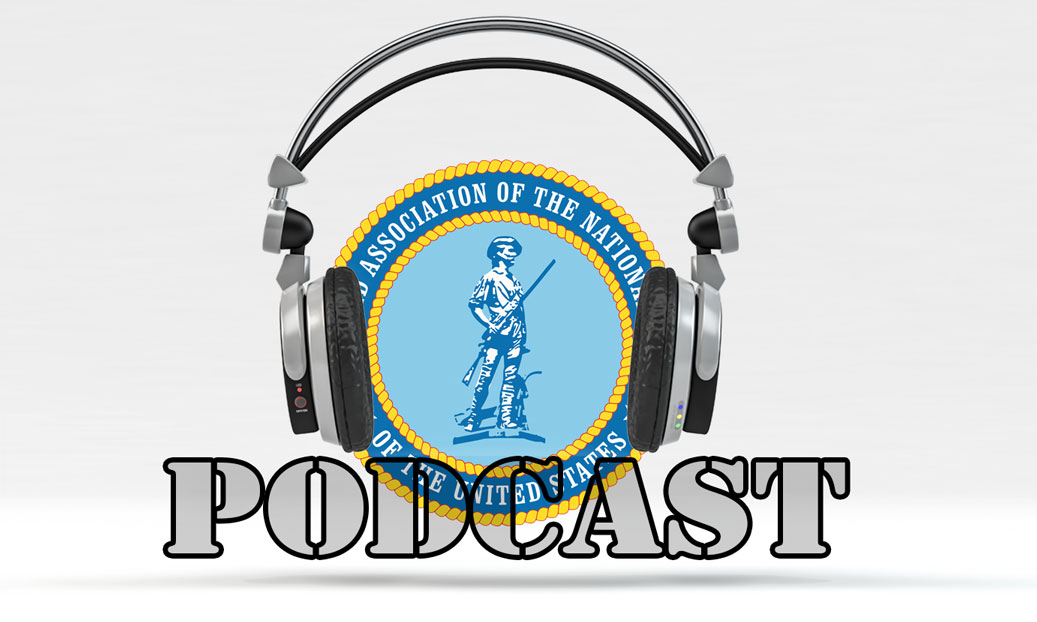 Providing news and updates from the national headquarters of EANGUS, this podcast keeps you up-to-date on legislation, services, and events from Washington, D.C.

NEW Podcast – 28 FEB 2018 – Click here to download.

In this episode, we discussed numerous legislative issues including the expansion of Tricare Reserve Select and the recent Negotiated Rule making session on Gainful Employment at the Department of Education.

Key Points
TRICARE Reserve Select expansion provision in the National Defense Authorization Act
What is Gainful Employment?

Listen on iTunes or download from the iTunes store.

| | |
| --- | --- |
| Legislative Action Center | |
EANGUS

Click here to view EANGUS' Legislative Action Center, featuring current advocacy campaigns, email alert sign-ups, and a way to contact your elected officials.


YouTube Channel: EANGUS National Office
Our latest YouTube updates:
Drill Talking Points
EANGUS 2017 Conference Videos
TRICARE UPDATES
---
| | |
| --- | --- |
| Thank you to our Corporate Partners for their support | |
EANGUS
Check out our Corporate Partners' products and services that support EANGUS.

To view our Partners via the EANGUS Site: http://eangus.org/corporate-partner-list/


---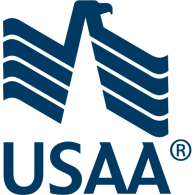 Special thanks to our Affinity Partner, USAA!


---
NCOA Marketing Company is transitioning to Still Serving Promos. With Still Serving, our valued customers can expect the same quality products and service from our all-Veteran and Veteran-family team. We look forward to continuing to meet your needs. Be sure to like our new new webpage.

| | |
| --- | --- |
| 47th EANGUS Annual Conference | |
EANGUS
Charleston, WV
11-16 August, 2018

Exhibitor Registration
Individual Registration

READ MORE
| | |
| --- | --- |
| 47th Annual Conference Site Visit — Charleston, WV | |
EANGUS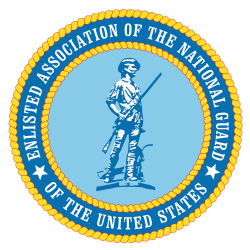 Date: May 18-20, 2018
Where: Charleston, WV
Hotel: Charleston Marriott Town Center |. 200 Lee Street East | Charleston, WV 25301 | (304) 345-6500
Event Code: EANGUS | Room Block Reservation Deadline: April 27th
Click here to reserve online

Hotel parking is free for this event though not shown on the website. Ensure the charge is removed at checkout.
READ MORE
| | |
| --- | --- |
| Please donate to help the National Guard as they recover from the 2017 hurricane season | |
EANGUS
You can now split your donation equally, or choose the area to support: Texas, Puerto Rico, Virgin Islands, or Florida.

While the National Guard Soldiers and Airmen are helping their fellow citizens, their own homes have been flooded and their contents destroyed. EANGUS is accepting donations to help those heroes. Please be generous and make a donation today.

ALL FUNDS WE RECEIVE GO TO THOSE GUARD FAMILIES. NO MONEY IS TAKEN OUT FOR ADMINISTRATIVE FEES OR OTHER EXPENSES.
READ MORE
| | |
| --- | --- |
|   |  MORE GUARD AND MILITARY NEWS |
---
| | |
| --- | --- |
| Defying the odds: Soldier goes from humble beginnings to Miss Maine USA, national advocate | |
U.S. Army
Sgt. Marina Gray, a petroleum supply specialist with the Maine Army National Guard, earned the title of Miss Maine USA on November 26, 2017. Gray will go on to compete at the national level Miss USA pageant this summer for a chance to represent the United States in the Miss Universe pageant. The Mount Desert Island native comes from humble beginnings, overcoming many challenges that she says helped shape her into the strong, independent woman she is today. Gray has been in the Maine Army National Guard for five years. She spends one weekend a month with the 133rd Engineer Battalion's Forward Support Company in Brunswick.
READ MORE
| | |
| --- | --- |
| Air Force wants to slash acquisition red tape with new charter | |
Federal News Radio
The Air Force is expanding some of the authorities that have proven successful within its rapid capabilities office to help procure larger and more traditional weapons. The charter, which will be directly overseen by a board of directors and the Air Force Secretary, extends "the rapid and agile operating principles we've demonstrated on classified programs to other designated activities in order to expedite fielding," Maj. Emily Grabowski, an Air Force spokeswoman, told Federal News Radio.
READ MORE
| | |
| --- | --- |
| AMVETS unveils new effort with VA to combat veterans suicide | |
Military Times
AMVETS officials on March 6 announced a new mental health care partnership with the Department of Veterans Affairs that's part of a broader effort by both organizations to better combat suicide among vulnerable veterans. "We have to start saving lives, not just talking about it," said Sherman Gillums Jr., chief strategy officer for AMVETS.
READ MORE
| | |
| --- | --- |
| Oregon National Guard Soldiers train for readiness | |
115th Mobile Public Affairs Detachment via DVIDS
Soldiers in the Oregon National Guard must utilize every possible moment for training opportunities, so that when a state or national emergency or threat occurs, they will be ready. During their monthly drill weekend, Soldiers from the 741st Brigade Engineer Battalion and the 162nd Infantry Regiment engaged in tactical training at the Regional Training Institute (RTI), Camp Rilea, March 2-3 to practice setting up and using new equipment and to sharpen their skills.
READ MORE
| | |
| --- | --- |
| Army to base new Futures Command in major city, blend tech and academic cultures | |
Army Times
The Army is weeks away from unveiling the next phase in its plans to centralize and streamline modernization under one Army Futures Command, including moves to lease office space in a major city where leaders will have access to civilian experts. The service will start with a list of 30 options due this week to the Army secretary and chief of staff, Undersecretary Ryan McCarthy told Army Times on March 6.
READ MORE
---
---
---
| | |
| --- | --- |
| EANGUS USAA Rewards Credit Card | |
USAA
Apply for the EANGUS USAA Rewards™ credit card available in both American Express® and Visa Signature®. The card that makes it easy for you to support EANGUS.
With this card, you can help EANGUS continue its mission to provide a voice on Capitol Hill on enlisted National Guard issues.
USAA Bank will make a contribution to EANGUS when you open an account, make eligible purchases and keep an active account.
Your support helps EANGUS address issues affecting active and retired National Guard, their families and employers.
USAA is the Exclusive Provider of the Financial Services for EANGUS.


| | |
| --- | --- |
| Shop with Benefits! | |
EANGUS
EANGUS Members save more, with our new and enhanced member benefit programs! Visit https://eangus.org/benefits-2/ to learn about the member discount programs we've created, to save you money on everyday products and services ranging from travel to shopping, and insurance to health and wellness. These programs are made available to all members and their families because of your membership!




| | |
| --- | --- |
| Company Solo and Team CDL A Drivers Needed! | |
EANGUS
For GUARANTEED COMPENSATION and our PREMIUM PAY OUT, Call Mike at 877-417-7170 or visit www.cadencepremier.com.

Why Cadence?
GUARANTEED PAY!!!!

As a part of the Cadence team, our Class A CDL driver can expect honestly and to be treated with respect, all while knowing that you're an important part of the team that helps build our success.

We take great care of all of our drivers, but you should really check out our TEAM DRIVING OPPORTUNITIES. Are you Solo? We can partner you up, no problem!

Click here for a video about Cadence's story, culture, and what they can offer you.
READ MORE
| | |
| --- | --- |
| Take a well-deserved vacation with Boots to Journeys | |
EANGUS/Boots to Journeys
Boots to Journeys serves military families by meticulously planning effortless escapes. Their vacations help you recapture memorable moments which were put on hold during your years of service, while we focus on the details and help protect your investment for the next adventure in your life.

Boots to Journeys is an EANGUS Bronze Corporate Partner and books Executive Council travel.
READ MORE
| | |
| --- | --- |
| From our Platinum Partner — Recruit Military | |
EANGUS
RecruitMilitary is America's top military-centric employment-focused resource. We understand and appreciate the immense talent stemming from the military community, because we are a part of it. Together with EANGUS, we are proud to present a new resource center that is focused on ensuring that all member of the National Guard have access to gainful employment and career opportunities. Your selfless service to America is forever appreciated and Corporate America recognizes your talent. We are here to make sure you can pursue professional development and sustainability, while you serve and protect the country.

Through this resource center, you have access to 250,000+ career opportunities through our job board nationally, with the ability to see who is hiring directly in your area/zip code. You will also have access to 125+ ALL MILITARY career fairs annually. If you do not reside in a market where we hold a physical career fair, we also hold 6 virtual career fairs annually, based on region (Western, Central, and Eastern). Within this resource center, you will also find tutorials on how to stand out on our job board, build a profile that showcases your military background and talent, build and translate a military-to-civilian resume, as well as download an ATS-friendly resume template. Need help developing your interviewing techniques, or simply understanding general best practices? We have you covered on that front as well. Please join us, and get connected with the next great career opportunity!

EANGUS Recruit Military Employment Resources
Job Search Here
| | |
| --- | --- |
| EANGUS/NGAUS Short Term Recovery Insurance Plan | |
EANGUS/NGAUS
READ MORE
| | |
| --- | --- |
| Fuel Your Body during National Nutrition Month | |
TRICARE
If you made New Year's resolutions that are starting to fizzle, don't despair. March is National Nutrition Month -- the perfect time to assess and adjust your healthy living goals and behaviors. Whether you're just trying to firm up, eat a more balance diet, or lose weight, the results make a big impact on your overall health. Check out the TRICARE monthly tips to discover small changes that will make a big difference during National Nutrition Month.
READ MORE
| | |
| --- | --- |
| TRICARE Transition Challenges in the West Region | |
TRICARE
We are aware of the customer service issues our patients are experiencing in the West Region. Learn more about how we are fixing these issues, including waiving our usual authorization process through March 18.
READ MORE
---
Missed last week's issue? See which articles your colleagues read most.
Don't be left behind. Click here to see what else you missed.
---