---
| | |
| --- | --- |
| Guardsmen recognized for saving life of elderly man | |
Kentucky Today
A pair of Kentucky Guardsmen are being hailed as heroes after saving the life of an elderly man during flooding, Feb. 27 in Owensboro. Specialists Casey Brandle and Justin Stinnett, both with the 206th Engineer Battalion, are credited with pulling 87-year-old David Hamilton from his vehicle after he lost control and drove into floodwaters, trapping him inside. "The Army taught us Selfless Service," said Stinnett. "And what was going through my mind was how Mr. Hamilton has a family and how we each have our own… and family always comes first. I'm just thankful that we were there at the time to be able to help."
READ MORE
| | |
| --- | --- |
| Dunford visits Afghanistan to review US military campaign | |
The Associated Press via Voice of America
The top U.S. military officer visited Afghanistan on Monday to evaluate the military campaign and ensure new American advisory teams and an upgraded Afghan Air Force are on target as the next fighting season with the Taliban looms. Gen. Joseph Dunford, chairman of the Joint Chiefs of Staff, said he wants to understand the goals for the coming months so the U.S.-led coalition can develop ways to measure progress in the fight.
READ MORE
| | |
| --- | --- |
| Celebrating Women's History Month: Fulfilling a life-long dream to serve her country | |
Ohio National Guard Public Affairs via DVIDS
Ohio Army National Guard Col. Jennifer Mitchell has experienced major career milestones in the past year. Last June, Mitchell became the first woman to take command of the 16th Engineer Brigade and she was appointed chief of the joint staff for the Ohio Joint Force Headquarters. Mitchell's 26 years of service has included positions within the 16th Engineer Brigade, as well as on the Joint Force Headquarters staff. She has also served in assignments at the National Guard Bureau, the Pentagon and on Capitol Hill, including in the Office of the Secretary of the Army for the Chief of Legislative Liaison and as an Army Congressional Fellow with the Senate Appropriations Committee.
READ MORE
| | |
| --- | --- |
|   |  EANGUS NATIONAL OFFICE UPDATE |
---
| | |
| --- | --- |
| 2018 Scholarship Applications | |
EANGUS
The scholarship application period is now open.

Scholarships available from the following: American Intercontinental University, American Public University System, Colorado Technical University, Grand Canyon University, Grantham University, Sonoran Desert Institute, Virgil Williams Scholarship, EANGUS Patriots Scholarship.

For more information, visit https://eangus.org/we-care-for-america/scholarship-information/.

---
USAA Scholarship
STATE ASSOCIATIONS can request $1,000 to be used for educational expenses for a Soldier, Airman or Family Member. This year all requests must be submitted no later than August 20, 2018.

NOTE: This process is for state associations only and not individual applicants. Please click here for the scholarship form, and here for the requested W-9.
| | |
| --- | --- |
| New EANGUS podcast available! | |
EANGUS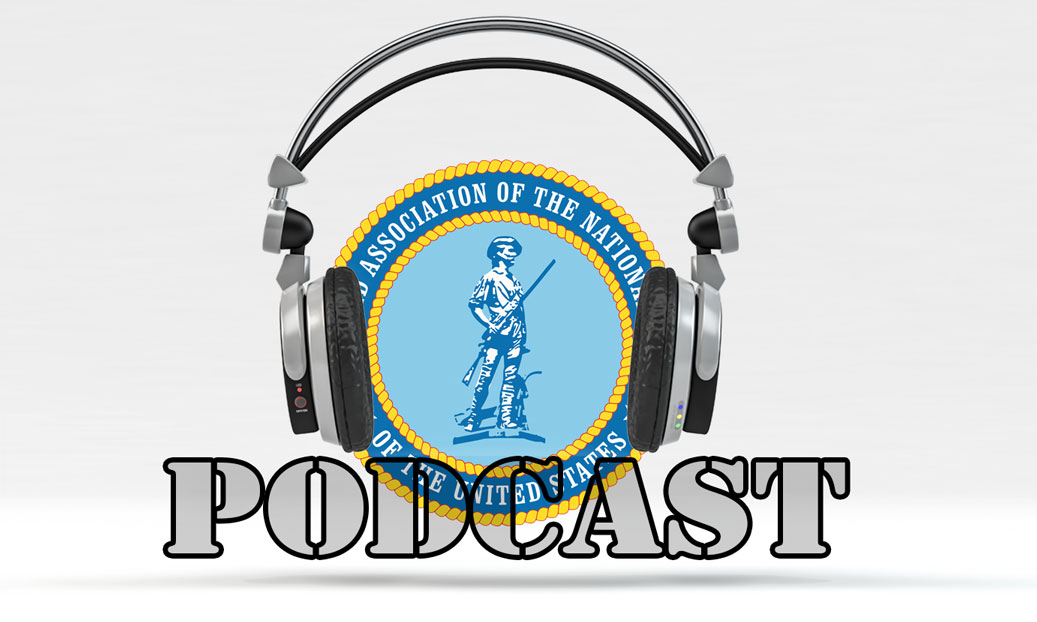 Providing news and updates from the national headquarters of EANGUS, this podcast keeps you up-to-date on legislation, services, and events from Washington, D.C.

NEW Podcast – 28 FEB 2018 – Click here to download.

In this episode, we discussed numerous legislative issues including the expansion of Tricare Reserve Select and the recent Negotiated Rule making session on Gainful Employment at the Department of Education.

Key Points
TRICARE Reserve Select expansion provision in the National Defense Authorization Act
What is Gainful Employment?

Listen on iTunes or download from the iTunes store.

| | |
| --- | --- |
| Legislative Action Center | |
EANGUS

Click here to view EANGUS' Legislative Action Center, featuring current advocacy campaigns, email alert sign-ups, and a way to contact your elected officials.


YouTube Channel: EANGUS National Office
Our latest YouTube updates:
Drill Talking Points
EANGUS 2017 Conference Videos
TRICARE UPDATES
---
| | |
| --- | --- |
| 47th EANGUS Annual Conference | |
EANGUS
Charleston, WV
11-16 August, 2018

Exhibitor Registration

Individual Registration

Golf Tournament Registration

READ MORE
| | |
| --- | --- |
| 47th Annual Conference Site Visit — Charleston, WV | |
EANGUS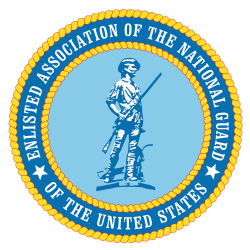 Date: May 18-20, 2018
Where: Charleston, WV
Hotel: Charleston Marriott Town Center |. 200 Lee Street East | Charleston, WV 25301 | (304) 345-6500
Event Code: EANGUS | Room Block Reservation Deadline: April 27th
CLICK TO REGISTER AND RESERVE ONLINE

Hotel parking is free for this event though not shown on the website. Ensure the charge is removed at checkout.
READ MORE
| | |
| --- | --- |
| Please donate to help the National Guard as they recover from the 2017 hurricane season | |
EANGUS
You can now split your donation equally, or choose the area to support: Texas, Puerto Rico, Virgin Islands, or Florida.

While the National Guard Soldiers and Airmen are helping their fellow citizens, their own homes have been flooded and their contents destroyed. EANGUS is accepting donations to help those heroes. Please be generous and make a donation today.

ALL FUNDS WE RECEIVE GO TO THOSE GUARD FAMILIES. NO MONEY IS TAKEN OUT FOR ADMINISTRATIVE FEES OR OTHER EXPENSES.
READ MORE
| | |
| --- | --- |
|   |  MORE GUARD AND MILITARY NEWS |
---
| | |
| --- | --- |
| Plan could add multiple sweeping veterans reform measures to must-pass omnibus budget bill | |
Military Times
Lawmakers are hoping to attach a year's worth of Veterans Affairs reform measures to the omnibus federal budget bill due early this week, in the hopes of adding another round of wins on veterans policies to the must-pass spending legislation. Included in the bipartisan proposal are well-debated plans for overhauling VA's community care programs — provisions that would allow more veterans to receive free medical treatments from private-sector doctors — as well as a review of the department's national footprint and massive changes to the VA caregiver benefit program.
READ MORE
| | |
| --- | --- |
| Big bank-reform bill that passed Senate includes new VA loan refinance rules | |
Military Times
A banking-reform bill that dials back regulations put in place after the 2008 financial crisis includes language that targets predatory lenders offering VA-backed home loan refinancing. The Senate voted 67-31 on March 14 to pass the Economic Growth, Regulatory Relief, and Consumer Protection Act. The House has passed a separate bank-reform bill; per The Associated Press, the next likely step is a compromise bill that would be voted on by both chambers.
READ MORE
| | |
| --- | --- |
| Switching to Army camo could cost Air Force $450 million, presentation shows | |
Military.com
The U.S. Air Force's proposed switch to an Army-patterned uniform may be on the fast track, according to a recent Facebook presentation — and it could be a pricey proposal for the service. The Army Combat Uniform, or ACU, may become the Air Force's permanent replacement for the current Airman Battle Uniform as early as June 1, according to a recently leaked slide presentation.
READ MORE
| | |
| --- | --- |
| How the 'Network Generation' is changing the millennial military | |
War On The Rocks
There is one problem with all the advice about how to recruit and lead young millennials in the U.S. military: Millennials are no longer the generation the military needs to focus on. Millennials — those born between 1980 and 1996 — are not joining the military; they are the military. As of 2015, about 72 percent of active duty personnel were millennials. Many millennials could have retired with 20 years in service last year. The junior enlisted service members walking out during training sessions that they deem unworthy of their time are not millennials. They are the next generation: the Network Generation.
READ MORE
---
---
| | |
| --- | --- |
| So long, platoon sergeants! Army begins turning AIT instructors into drill sergeants | |
Army Times
Following the decision to do away with the advanced individual training platoon sergeant, the Army began remaking those instructors into drill sergeants on March 16, according to a release from the Army. The Army plans to transition 600 platoon sergeants, over seven 10-day courses, Stephanie Slater, a spokeswoman for the Center for Initial Military Training, told Army Times.
READ MORE
| | |
| --- | --- |
| Idaho Army National Guard command sergeant major dies of heart failure | |
Idaho State Journal
The funeral for the top enlisted man in the Idaho Army National Guard was held recently. Richard Elgan, 49, of Boise, was buried March 13 in the Southeast Idaho town of Dayton, the town where he grew up, after he died unexpectedly of heart failure on March 5. Elgan enlisted in the Idaho Army National Guard in 1985 and served in multiple assignments, including training new recruits, before his final assignment as the state's command sergeant major.
READ MORE
---
| | |
| --- | --- |
| EANGUS USAA Rewards Credit Card | |
USAA
Apply for the EANGUS USAA Rewards™ credit card available in both American Express® and Visa Signature®. The card that makes it easy for you to support EANGUS.
With this card, you can help EANGUS continue its mission to provide a voice on Capitol Hill on enlisted National Guard issues.
USAA Bank will make a contribution to EANGUS when you open an account, make eligible purchases and keep an active account.
Your support helps EANGUS address issues affecting active and retired National Guard, their families and employers.
USAA is the Exclusive Provider of the Financial Services for EANGUS.


| | |
| --- | --- |
| Thank you to our Corporate Partners for their support | |
EANGUS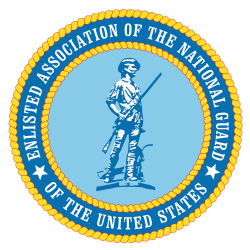 Check out our Corporate Partners' products and services that support EANGUS.

To view our Partners via the EANGUS Site: http://eangus.org/corporate-partner-list/


---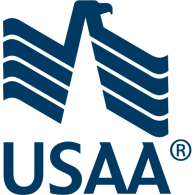 Special thanks to our Affinity Partner, USAA!


---
NCOA Marketing Company is transitioning to Still Serving Promos. With Still Serving, our valued customers can expect the same quality products and service from our all-Veteran and Veteran-family team. We look forward to continuing to meet your needs. Be sure to like our new new webpage.

| | |
| --- | --- |
| Shop with Benefits! | |
EANGUS
EANGUS Members save more, with our new and enhanced member benefit programs! Visit https://eangus.org/benefits-2/ to learn about the member discount programs we've created, to save you money on everyday products and services ranging from travel to shopping, and insurance to health and wellness. These programs are made available to all members and their families because of your membership!




| | |
| --- | --- |
| Give your email marketing a boost with Constant Contact! | |
EANGUS
EANGUS Members; Get the most out of your email marketing. Our partnership with Constant Contact makes it easy for you to communicate with customers.

Their email marketing tools allow you to engage effectively and frequently. The result? More repeat business and referrals.

Visit https://eangus.constantcontact.com and you can save up to 25% because of your EANGUS membership!
READ MORE
| | |
| --- | --- |
| Company Solo and Team CDL A Drivers Needed! | |
EANGUS
For GUARANTEED COMPENSATION and our PREMIUM PAY OUT, Call Mike at 877-417-7170 or visit www.cadencepremier.com.

Why Cadence?
GUARANTEED PAY!!!!

As a part of the Cadence team, our Class A CDL driver can expect honestly and to be treated with respect, all while knowing that you're an important part of the team that helps build our success.

We take great care of all of our drivers, but you should really check out our TEAM DRIVING OPPORTUNITIES. Are you Solo? We can partner you up, no problem!

Click here for a video about Cadence's story, culture, and what they can offer you.
READ MORE
| | |
| --- | --- |
| Take a well-deserved vacation with Boots to Journeys | |
EANGUS/Boots to Journeys
Boots to Journeys serves military families by meticulously planning effortless escapes. Their vacations help you recapture memorable moments which were put on hold during your years of service, while we focus on the details and help protect your investment for the next adventure in your life.

Boots to Journeys is an EANGUS Bronze Corporate Partner and books Executive Council travel.
READ MORE
| | |
| --- | --- |
| From our Platinum Partner — Recruit Military | |
EANGUS
RecruitMilitary is America's top military-centric employment-focused resource. We understand and appreciate the immense talent stemming from the military community, because we are a part of it. Together with EANGUS, we are proud to present a new resource center that is focused on ensuring that all member of the National Guard have access to gainful employment and career opportunities. Your selfless service to America is forever appreciated and Corporate America recognizes your talent. We are here to make sure you can pursue professional development and sustainability, while you serve and protect the country.

Through this resource center, you have access to 250,000+ career opportunities through our job board nationally, with the ability to see who is hiring directly in your area/zip code. You will also have access to 125+ ALL MILITARY career fairs annually. If you do not reside in a market where we hold a physical career fair, we also hold 6 virtual career fairs annually, based on region (Western, Central, and Eastern). Within this resource center, you will also find tutorials on how to stand out on our job board, build a profile that showcases your military background and talent, build and translate a military-to-civilian resume, as well as download an ATS-friendly resume template. Need help developing your interviewing techniques, or simply understanding general best practices? We have you covered on that front as well. Please join us, and get connected with the next great career opportunity!

EANGUS Recruit Military Employment Resources
Job Search Here
| | |
| --- | --- |
| Vet Tix is Celebrating its 10th Anniversary! | |
EANGUS
Have you heard of Veteran Tickets Foundation? Vet Tix provides reintegration opportunities through event tickets for all currently serving military including the Guard and Reserve, veterans of all eras, military family members and caregivers of veterans. To date, Vet Tix has distributed more than 4 million tickets and continues to positively impact the veteran and military community.

This March, Vet Tix is celebrating their 10-year anniversary and will continue to offer family and peer bonding opportunities for the military community. To learn more and to sign up, please visit http://www.prweb.com/releases/2018/03/prweb15320975.htm.

READ MORE
| | |
| --- | --- |
| EANGUS/NGAUS Short Term Recovery Insurance Plan | |
EANGUS/NGAUS
READ MORE
| | |
| --- | --- |
| Register for TRICARE Webinar on Your Preventive Care Benefits | |
EANGUS
Do you know your preventive health care benefits? Join us on Thursday, March 29, from 1 to 2 p.m. (ET) for the "Understanding Your TRICARE Preventive Care Benefits" webinar. TRICARE covers preventive services, like screenings, vaccines and physical exams to help you stay as healthy as possible. This webinar will cover recent changes to coverage for clinical preventive services with TRICARE Select, as well as enhancements to existing coverage.
READ MORE
---
Missed last week's issue? See which articles your colleagues read most.
Don't be left behind. Click here to see what else you missed.
---