---
| | |
| --- | --- |
| 3 reasons to consider term life insurance | |
USAA
Term life insurance can be a way for your beneficiaries take care of temporary financial obligations that could cause major hardship to them should you die. One of the key differences between term and regular whole life insurance is that term insurance is for a specified time period, or "term." That usually makes it significantly less expensive than whole life insurance.
READ MORE
| | |
| --- | --- |
| This new policy could save military members tens of millions of dollars on their student loans | |
MarketWatch
Over the past several years members of the military subject to hostile fire and other dangerous situations have overpaid at least $100 million on their student loans. The federal government quietly announced a policy recently that advocates hope will bring that number close to zero in the coming years.
READ MORE
| | |
| --- | --- |
| Washington National Guard fighting wildfires get pay raise under new law | |
KING-TV
The next time the Washington National Guard gets called to help fight wildfires in the state they will get a raise. Gov. Jay Inslee signed a bill into law April 19 allowing guardsmen to get $12 per hour, the state's minimum wage. For the last 30 years, they received a military salary based on a formula involving the federal minimum wage, which paid them almost $11 an hour last year.
READ MORE
| | |
| --- | --- |
| Syracuse launches program to train veterans in political careers | |
Military Times
If you're a veteran interested in pursuing a career in the political world, Syracuse University may have just the program for you. This fall, Syracuse will launch its "Veterans in Politics" academic program, which is designed to give veterans and military family members a crash course in what it takes to succeed at all levels of politics.
READ MORE
---
Promoted by

 
---
| | |
| --- | --- |
| EANGUS USAA Rewards Credit Card | |
USAA
Apply for the EANGUS USAA Rewards™ credit card available in both American Express® and Visa Signature®. The card that makes it easy for you to support EANGUS.

USAA Bank will make a contribution to EANGUS when you open an account, make eligible purchases and keep an active account. Your support helps EANGUS address issues affecting active and retired National Guard, their families and employers.

Thank you to our Affinity Partner, USAA, who is the Exclusive Provider of the Financial Services for EANGUS.


| | |
| --- | --- |
|   |  MEET NEW FRIENDS / MAKE A DIFFERENCE |
---
| | |
| --- | --- |
| Membership Drive | |
EANGUS
2019 EANGUS MEMBERSHIP DRIVE - - UPDATE!!

Our Greatest Asset is our Members - and we want more!

One of the aims of the EANGUS Membership Committee is to provide a positive impact by increasing each state association's membership rosters. We need your help to perpetuate the 2019 Membership Challenge. We are calling on all EANGUS Members to become more active with our Membership Drive.

Please contact any of your non-member constituents, retirees, and even newly sworn-in members of the National Guard within your state! Our growth and development depends on our New Members. The incentives, tools, and resources are available for each of you. We desire that each state and territory ADD an additional 150 members (at a minimum) to join EANGUS NLT July 4th! The sooner, the better, because INCENTIVES are available for your participation!

We have passed the 60-day mark of our Membership Drive. Here are the State Association percent increases: Over 30% : Arkansas, Connecticut, Mississippi. 25-30% : Alaska, South Carolina. 10-25% : Arizona, Indiana, Iowa, New Mexico. 5-10% : Alabama, District of Columbia, Maine, Massachusetts, Minnesota, New Hampshire, NGB, T-10, Ohio, Tennessee, Virginia, Washington AT PRESENT, THREE OF THESE STATES WILL RECEIVE CASH PRIZES.

Let's see which state or territory will WIN the 1st Place Prize of $5k! Don't forget that there is a CASH Prize of $1,000 for the Top Individual Recruiter! It could be YOU!

For more information: https://eangus.org/fall-in-love-with-your-association/
Please contact your Membership Committee if there are any questions at membership@eangus.org
| | |
| --- | --- |
|   |  2019 EANGUS NATIONAL CONFERENCE |
---
| | |
| --- | --- |
| EANGUS 48th Annual Conference 2019 | |
EANGUS
The exhibitor floor plan for EANGUS' 48th Annual Conference is now available online. Booths will be assigned on a first come/first serve basis. Floor plan will be updated on Mondays.

2019 EANGUS Prospectus/Exhibitor Information and Application
Registration
Hotel reservation
Site visit —18 May

| | |
| --- | --- |
| Resolutions, nominations and more | |
EANGUS
Resolutions — Deadline 15 May
Nominations — Deadline 5 Aug.
Awards — Deadline 15 May
Publications Contest — Deadline 15 June
| | | |
| --- | --- | --- |
| | | CSU offers flexible online degree programs and affordable tuition rates to military families. CSU provides its students with online associate, bachelor's, master's, and doctoral degree programs in business administration, criminal justice, fire administration, occupational safety and health, and more. Visit ColumbiaSouthern.edu/Military or call (877) 347-6050 to learn more. |
---
The CSM Virgil R. Williams scholarships are in the amount of $2,000 and are awarded to EANGUS members or dependents. Total number of scholarships will be based on contributions to We Care for America. This scholarship is for an undergraduate degree, and previous winners can not apply. Money is paid directly to the school the winner is attending and goes towards tuition expenses.
The Patriot Scholarships are in the amount of $1,000 and are derived from contributions from individuals, not corporations. The number of scholarships will be based on the contributions received. Money is paid directly to the school the winner is attending and goes towards tuition expenses.


Deadline to apply is 1 May 2019
| | |
| --- | --- |
| Patriot Scholarship | |
EANGUS
The Patriot Scholarship Fund was created in 2017, and the first scholarships were awarded in 2018. This fund was created to increase the outreach of our Scholarship Committee, and provide a way for generous members to give back through an individual tax-deductible donation to the Enlisted Association and the Enlisted Corps.
Donate: https://eangus.org/patriot-scholarship-donation/

APUS will provide one (1) full-academic undergraduate scholarship (tuition only) and (1) full-academic graduate scholarship (tuition only) for the EANGUS Members, immediate family, and Auxiliary members whose application and essay best demonstrates the need for educational support through this scholarship.

Recipients of this scholarship must enroll with APUS.

We are pleased to share this brief message from TSgt Jaclyn Gyger, Pennsylvania Air NG, one of our EANGUS members who received a Scholarship from APUS.

| | |
| --- | --- |
| American InterContinental University | |
AIU
AIU will award up to six (6) individual scholarships throughout the 2019 calendar year to qualified EANGUS members or an immediate family member (spouse, child, or step child) of a current paid EANGUS member, or an Auxiliary member. AIU will provide a full tuition academic undergraduate or graduate scholarship that covers direct education-related costs which include tuition for all eligible programs, course materials, technology fee, and graduation fee.

Recipients of this scholarship must enroll with AIU.

Click the University Logo above to go directly to their website for more specific details on the university and their degree programs.

Here's a brief message from Master Sergeant Dan Reilly of Connecticut, one of our members who received an EANGUS Scholarship from AIU.


| | |
| --- | --- |
| EANGUS Future Phoenix Scholarship | |
University of Phoenix/EANGUS
University of Phoenix is pleased to collaborate with the Enlisted Association of the National Guard of the United States We Care for America Foundation (EANGUS WCFA Foundation) to offer a scholarship program.

Through this scholarship program, three (3) full-tuition scholarships will be offered. Each scholarship will allow a prospective student the opportunity to complete an undergraduate or master's degree program at University of Phoenix.

Recipients may choose to attend a University of Phoenix campus or online.

Scholarship is NOW OPEN to apply. The application deadline is 10 May 2019.
| | |
| --- | --- |
| Colorado Technical University | |
CTU will award up to two (2) individual scholarships during the 2019 calendar year to qualified EANGUS members, immediate family, and Auxiliary members. CTU will provide a full-tuition academic Undergraduate, Graduate, or Doctorate Scholarship.

Here's a brief message from Mrs. Monica Williams, Auxiliary member and spouse of SFC Jamie Williams, an Arkansas EANGUS member. Monica received a scholarship from CTU in 2018.

CTU Scholarship Information

Apply here
| | |
| --- | --- |
| Grantham Salutes EANGUS Scholarship | |
Grantham University/EANGUS
The Enlisted Association of the National Guard of the National Guard (EANGUS) is partnering with Grantham University to award TWO full undergraduate or graduate scholarship to the University. The Grantham Salutes EANGUS Scholarship is valued at up to $40,077, and covers tuition costs, required textbooks, software and fees. The scholarship value depends on the degree selected and credits transferred.

Recipients of this scholarship must enroll with Grantham University.

Apply online before 1 May.

Watch this brief message from 2018 Grantham University Scholarship Recipient Reva Cummings.
| | |
| --- | --- |
| The 2019 EANGUS scholarship period is now open! | |
EANGUS
Great opportunities for members, dependents, and Auxiliary members.
| | |
| --- | --- |
| Enlisted Guardians: Our Legacy, Our Future | |
EANGUS
On Nov. 10, Mr. Selman, EANGUS President CSM (Ret) Karen Craig, and several EANGUS Executive Council members were present when the portrait was revealed to our members for the first time. This special ceremony occurred during the Pennsylvania National Guard Associations State Conference and Banquet held in Lancaster, Pennsylvania.

Portraits are available for purchase: https://eangus.org/national-guard-portrait/

For a complete list of available schools and scholarships, click here.

| | |
| --- | --- |
| Please donate now to help National Guard families affected by hurricanes, fires, floods and natural disasters | |
EANGUS
While the National Guard Soldiers and Airmen are helping their fellow citizens, their own homes have been flooded and their contents destroyed. EANGUS is accepting donations to help those heroes. Please be generous and make a donation today.
READ MORE
---
---
| | |
| --- | --- |
| Legislative Action Center | |
EANGUS

Click here to view EANGUS' Legislative Action Center, featuring current advocacy campaigns, email alert sign-ups, and a way to contact your elected officials.


| | |
| --- | --- |
| Listen to the EANGUS Podcast | |
EANGUS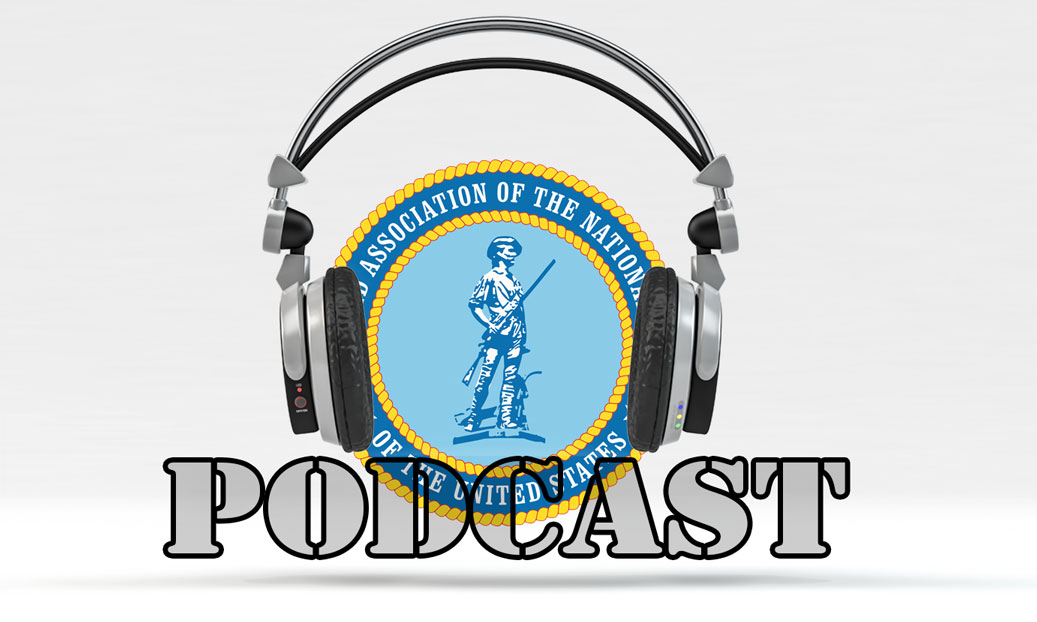 Providing news and updates from the national headquarters of EANGUS, this podcast keeps you up-to-date on legislation, services, and events from Washington, D.C.

Latest Podcast – 15 March 2019 – Click here to download.
| | |
| --- | --- |
| EANGUS Publications | |
EANGUS
Check out our EANGUS Publications page! Click the link below to access all the information you need to know and find current and past copies of the weekly Minuteman Update, a digital library of the New Patriot Magazine, and the newest edition of the National Guard Almanac which was just published. Click here: https://eangus.org/eangus-publications/ After reviewing your State's page in the Almanac, if changes are needed, State Presidents and Association representatives may submit updates using the Almanac Updates Submission Form which can also be found at the link above. Changes will be updated regularly to the digital edition of the National Guard Almanac.

| | |
| --- | --- |
| EANGUS Cookbook | |
EANGUS
We invite members to share their best recipes — the favorites served at the dinner table, at parties and potlucks, the recipes your family and friends ask for. Our goal is to provide an All-Area Cookbook for the National Guard family to discover, preserve and share their favorite recipes and stories. Please submit your own story here.

See our YouTube channel for our most recent video updates.
---
---
| | |
| --- | --- |
| From our Platinum Partner — RecruitMilitary | |
EANGUS
RecruitMilitary is America's top military-centric employment-focused resource. We understand and appreciate the immense talent stemming from the military community, because we are a part of it. Together with EANGUS, we are proud to present a new resource center that is focused on ensuring that all member of the National Guard have access to gainful employment and career opportunities.

EANGUS RecruitMilitary Employment Resources
Job Search Here

READ MORE
2,256 verified Veteran hires in 2019 (YTD), including 1,021 National Guard members.
9,185 verified CASY and MSCCN applicants hired in 2018 – want to be next?



| | |
| --- | --- |
| Company Solo and Team CDL A drivers needed! | |
EANGUS
For GUARANTEED COMPENSATION and our PREMIUM PAY OUT, Call Mike at 877-417-7170 or visit www.cadencepremier.com.

Click here for a video about Cadence's story, culture, and what they can offer you.
READ MORE
---
| | |
| --- | --- |
| Accidental Death & Dismemberment Insurance | |
EANGUS
Dues-paying members and life members of the Enlisted Association of the National Guard of the United States, or EANGUS, have an accidental death and dismemberment (AD&D) benefit at no extra cost to the member.

This $2,500 benefit, will automatically cover all members under age 80 whose national dues have been received or accounted for by their respective national association headquarters. There are no other enrollment requirements for the member to be covered.

For more info on the AD&D member benefit, click here.
| | |
| --- | --- |
| Technician Disability Income Insurance | |
| | |
| --- | --- |
| Continuing TRICARE Health Coverage after Retirement | |
TRICARE
April 23, 2019

When you retire from active duty or turn age 60 as a retired reserve member, your TRICARE coverage changes. After either of these Qualifying Life Events (QLEs), you must take action and enroll in a TRICARE retiree health plan so that you and your family members don't have a gap in your TRICARE coverage after retirement. Typically, you have up to 90 days after your retirement date to enroll in a TRICARE plan as a retiree.

Read the full article here.
---
| | |
| --- | --- |
| Boots to Journeys: 2019 Normandy and Paris Experience | |
EANGUS/Boots to Journeys
It's an experience 75 years in the making: Take a journey to Paris and the beaches of Normandy — visit the world-famous landmarks in the City of Lights and witness the history of World War II's European theater. Depart on Oct. 5, 2019. For more information, contact Michael Pickens at 1-833-490-0390 or travel@bootstojourneys.com.

Boots to Journeys is an EANGUS Bronze Corporate Partner and books Executive Council travel.

---
| | |
| --- | --- |
| Thank you to our Corporate Partners for their support | |
EANGUS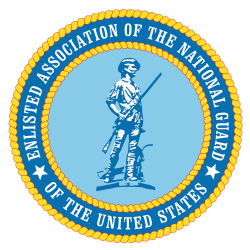 Check out our Corporate Partners' products and services that support EANGUS.

To view our Partners via the EANGUS Site: http://eangus.org/corporate-partner-list/


---
Special thanks to our Affinity Partner, USAA!


---
| | |
| --- | --- |
| Vet Tix | |
Live Nation Entertainment
Live Nation, Vet Tix's largest donor, has recently donated its one millionth ticket! In total, the company and its subsidiary, Ticketmaster, have donated $75 million in tickets since 2014. They'll be celebrating this partnership over the next week, acknowledging their outstanding efforts and continual support of the veteran and military community through our initiative and others.

See press release here: https://prn.to/2HgMOUT
| | |
| --- | --- |
| Shop with Benefits | |
| | |
| --- | --- |
| Shop for Mother's Day on Amazon Smile | |
EANGUS
When you shop Mother's Day gifts at smile.amazon.com/ch/54-1614300, AmazonSmile donates to EANGUS We Care For America Foundation Inc.
| | |
| --- | --- |
| Spring is here and it's almost time to fire up the A/C | |

Keep your home cool and wallet protected!






As a homeowner, you know that with each changing season there are certain things you need to do around the house to get your home ready for what's next. That can mean checking your roof and sidewalks after a harsh winter or getting your central A/C tuned up for a much-anticipated summer.

But now you can protect your wallet from costly and unexpected breakdowns with the TrustedPlace™ Home Systems Protection Plan. Get peace of mind and protection for all your home systems, appliances, electronics and other home equipment when costly, unexpected breakdowns happen.

EANGUS Members can save 20%!
Act fast to get your FREE quote today!
Click here to visit us online or call us directly 844-436-3186.

EANGUS members get benefits like:
Choose your own repair contractor
Hassle-free claims
No inspection or maintenance records needed
Substantial coverage: Up to a $25,000 limit
| | |
| --- | --- |
| CTU Patriot Scholarship | |
For 11 years, Colorado Technical University has award 50 scholarships annually to positively impact the lives of the extraordinary men and women whose lives have been altered due to injury while serving in the United States Armed Forces.

As of January 2019, CTU has award 550 scholarships valued at over $11 million.

Find out more about the scholarship here.
| | |
| --- | --- |
| Bryan College — Make a difference. For your Family. For your Career. For you. | |
Bryan College
Bryan College Patriot Partnership Information