---
| | |
| --- | --- |
| NSS Leadership Opportunity | |
By Jeffrey Liss, NSS Director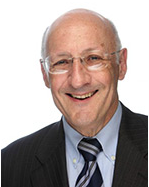 Can you, will you, help lead NSS in shaping our space future?
The NSS Nominations Committee is seeking candidates for election to the NSS Board of Directors. Directors would serve a four-year term beginning next summer. The committee is seeking candidates with diverse views, backgrounds, and talents who share our vision of creating a spacefaring civilization and using the resources of space for everyone on Earth and who are willing to use their talents and time to help NSS succeed in its mission. Backgrounds in financial, accounting, legal, public relations, marketing, digital marketing, and IT might be particularly helpful to the Society at this time, as well as experience in aerospace, government, and advocacy organizations (NSS or other). Directors have the ultimate responsibility and authority for NSS. They elect the officers who compose the Executive Committee, which makes the day-to-day decisions and manages the running of the Society. The Directors provide a senior level oversight of the performance of the Executive Committee, and provide longer-term strategic guidance and make major policy decisions. In particular, the Directors are charged with approving the budget, overseeing the financial management and adequacy of resources, approving major contracts, and electing their successors. Directors are expected to monitor Executive Committee meeting minutes and, both proactively and upon request, give advice or assistance based on their individual expertise and experience. The Board meets annually in May at NSS' International Space Development Conference and at a mid-year meeting in the fall. On rare occasions there also may be an all-Board telecon to consider a particular matter. Thank you for considering this opportunity. If you are interested in serving please send your indication of interest, resume, and any questions to Director Jeffrey Liss, Co-Chair of the Nominations Committee, at JGLNSS@aol.com.
---
| | |
| --- | --- |
| 11th Annual Reach for the Stars — National Rocket Competition Winners | |
By Jack & Kathy Colpas
In response to the nation's call for more interest in STEM (Science, Technology, Engineering & Math) activities, nearly 2000 kids across the nation participated in the eleventh annual Reach for the Stars ~ National Rocket Competition. Those who had the "Right Stuff"* were victorious. The national winners celebrated at Space Camp / US Space & Rocket Center in Huntsville, Alabama. They received a medal at the Saturn V building and launched their rockets from the Homer Hickam Launch Pad** under an October Sky. The 12th annual Reach for the Stars ~ National Rocket Competition is already underway. Your kids can't win it – if they're not in it.

* Thomas Wolfe, The Right Stuff – (Farrar, Straus and Giroux) 1979
**Homer Hickam is the author of the inspirational memoir, Rocket Boys which became the movie October Sky.



11th Reach for the Stars ~ Rocket Competition National Winners
Prepped for Launch. Photograph by Tina Hackey.

NSS Representative Robin Scott presents NSS membership to RFTS National Winner, Jessica Flowers from Indiana. RFTS director Jack Colpas Officiates. Photograph by Tina Hackey.

Rocket City Space Pioneer, Tim Pickins and National Association of Rocketry (NAR) past Educational Director, Vince Huegele award Space Shuttle Challenger Medal and Certificate to RFTS National Winner, Minnesota Civil Air Patrol Cadet, Nathan Jones. Photograph by Tina Hackey.
| | |
| --- | --- |
| Buy a Meaningful Gift for Your Grandchildren This Christmas | |
By Alice M Hoffman, PE, NSS President
If you're like me, you're tired of the commercialization of Christmas; discarded toys and meaningless trendy gifts are quickly tossed aside in favor of the next short-lived interest, leaving no lasting benefit for the recipient and a hollow feeling for the person giving the gift. This year, please join me in igniting your youngsters' interests in space by giving them a Gift Membership in NSS and/or a Crew Membership in EIS. For a $20 introductory NSS membership, your child will experience the wonder of the new format Ad Astra magazine and get this Downlink every two weeks, turning them on to the exciting new possibilities for careers in space. For another $20, your child will get the thrill of having her or his name flown into space every time a deserving group of students flies an experiment into space aboard an Enterprise in Space launch, and will learn how to get his or her class involved in the free K-12 and University programs offered.
| | |
| --- | --- |
| Cast Your Heinlein Award Votes! | |
By John Strickland, Chair, NSS Awards Committee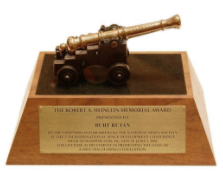 The National Space Society's Robert A. Heinlein Memorial Award honors those individuals who have made significant, lifetime contributions to the creation of a free, spacefaring civilization. In recognition of Heinlein's commitment to freedom, the award is a miniature brass cannon (Heinlein once owned a brass saluting cannon). Voting for nominees ends on November 30th at midnight, Hawaiian time.
Award description: http://www.nss.org/awards/heinlein_award.html
Ballot and rules: http://www.nss.org/heinlein-ballot.php
| | |
| --- | --- |
| Cislunar Explorers Team Tests Critical Assumption | |
By Dean Larson, NSS Director
Our Cornell-based Cislunar Explorers Team continues to execute a comprehensive system testing and software verification plan to help ensure that we will successfully orbit the Moon. Recall that our spacecraft must spin in order to separate the liquid water from its electrolyzed gaseous hydrogen and oxygen components, so that the gases can be used as propellant. As with any spinning object, the application of a force not along the spin axis will cause the spacecraft to nutate (wobble) about the spin axis. (If you have ever played with a spinning top, as the spinning slows and the top begins to lean away from the vertical, it starts to wobble due to the off-axis force of gravity.) Although we have taken pains to locate the engine nozzle along the primary axis, the axis shifts inflight as the water is used up. So, we will introduce a slightly off-axis force basically every time we fire the main engine. In addition, the primary way we control the attitude/orientation of the spacecraft is through using a cold gas thruster, which is well off the primary/spin axis. Its location is necessary to reorient the spacecraft on command, but firing it introduces a force well off axis, so will cause significant nutation. Our assumption, backed by preliminary free-fall testing, is that the slosh of the water in the fuel tank, in reaction to the nutation motion, will passively damp the undesired nutations. In order to more accurately test and quantify this assumption, the Team has designed an air-bearing apparatus that allows us to spin the spacecraft on the practically frictionless air bearing. We then introduce an off-axis force and observe what happens. Preliminary testing on the air-bearing apparatus appears to confirm our damping assumption. Now we are beginning the detailed testing required to determine how long it will take for the nutation motion to dampen out for the cold gas thruster force magnitudes we expect to encounter inflight.
| | |
| --- | --- |
| Dr. Robert Hampson Addresses Space Health In Huntsville; Scott Kelly is in Atlanta for his book Endurance | |
By Bill Gardiner, NSS Space Settlers' Health Development Committee
At this Year's Tennessee Valley Interstellar Workshop chaired by Les Johnson, Dr. Hampson of Wake Forest Baptist Medical Center on October 3 in a special seminar presented "Separating Reality from Wishful Thinking." Here is a link to his research archive. Astronaut Scott Kelly appeared in Atlanta at the Atlanta History Center November 9 where he talked about his one-year mission aboard the International Space Station and results of the health studies completed to date. The full title of his book is Endurance: A year in Space and a Lifetime of Discovery. Bill Gardiner met with him and told him about the space health related discoveries of NSS.
| | |
| --- | --- |
| Drive the Value of Membership: Join the NSS Value Enhancement Subcommittee | |
By Burt Dicht, NSS Vice President for Membership
We need your help! Our members are our most important resource. And we share a common goal...Creating a spacefaring civilization. As an organization we are dedicated to that mission and it drives why many members join the NSS and commit their time and treasure. However, as a member-based organization, we are also obligated to provide member value and ensure that members are getting the most from their membership experience. The NSS Value Enhancement Subcommittee supports our members by developing the benefits and programs that provide that value. The subcommittee currently has several openings for new members and we are looking for volunteers who share our passion for space as well as want to give something back the Society. If you are interested in serving as a volunteer on the subcommittee or want to learn more about this exciting opportunity that can benefit all members, we will be delighted to hear from you. No experience is necessary as long as you are dedicated to the goal of improving the member experience. To learn more please contact subcommittee Chair Rich Howard at rfhow50@gmail.com or me at burt.dicht@nss.org. We look forward to hearing from you.
| | |
| --- | --- |
| Space Settlement Summit Report | |
By Rod Pyle
The NSS's second annual Space Settlement Summit took place on October 18 and 19 in Santa Monica, CA. The invitation-only event featured some of the key players in the field, including Greg Autry, a professor at the University of Southern California and member of the recent NASA transition team, Ron Goedendorp of Nanoracks, Allison Zuniga of NASA Ames, Loretta Whitesides of Virgin Galactic, and George Sowers, Professor of Space Resources at the Colorado School of Mines and former Vice President of Advanced Programs at ULA. Joining these and other thought leaders were Mark Hopkins, Bruce Pittman, Dale Amon, John Mankins, Karlton Johnson, and other key leaders of NSS. Topics covered included why we pursue space settlement, cis-lunar development, financing space, and other subjects critical to expanding a human presence into the solar system. Look for feature articles about the Space Settlement Summit in an upcoming issue of Ad Astra.
| | |
| --- | --- |
| Texas Home District Blitz Keeps Rolling | |
By Dale Skran, Chair, NSS Policy Committee
On October 30, 2017, a team of five NSS members met with local staff for Representative Babin (R-36), the Chair of the Space Subcommittee of the House Space, Science, and Technology Committee. Babin is one of the most important leaders in the space area in the House, and NSS rolled out a large team, including Chapter President Eric Bowen, NSS Secretary Anita Gale, and David Cheuvront, a member of the Policy Committee. The meeting lasted two hours, which may be a record, and was very constructive. The "Make-up" Texas Home District Blitz will continue to target key Texas Representatives in the weeks ahead.



Clear Lake Area NSS members and constituents of Mr. Brian Babin (Texas R-36) who met with his space policy advisor Ms. Jeannie Kranz on October 30th. From left: Peter Brandt; Ms. Kranz; David Cheuvront; Anita Gale; Jim Akkerman. Photo by Eric Bowen, NSS Member.
 

 NSS CHAPTERS ROUNDUP




 Section Managed by Claire McMurray, NSS Chapters Reporter
---
| | |
| --- | --- |
| Do You Know Your Chapter's District Coordinator? | |
By Claire McMurray, NSS Chapters Reporter (and South Central District Coordinator)
Your chapter's National Space Society District Coordinator is potentially your chapter's administrative "friend at court," who can let you know about new procedures or opportunities, and help with problems. Confused about how to get brochures and other NSS materials? Text, phone, or email your Coordinator. Not sure how to file your chapter's annual report, or how to get your chapter re-listed? Ditto. Want help figuring out how to find what you want on the new NSS website (coming soon)? If Coordinators don't know the answers, they can direct you to someone who does. Be sure also that you keep your coordinator aware of your activities; if you have a newsletter, send it to him or her. But what if you find you can't work with your coordinator? Then contact David Stuart, NSS Vice-President for Chapters. The title has been changed from "Regional" to "District" Coordinator, because these districts no longer serve the same groups of states as the NSS electoral Region for Directors with 2-year terms. Districts may be rearranged as new chapters are formed, to encourage joint chapter activities and even out coordinator responsibilities. Currently they are:
Northeast District: Connecticut, Delaware, District of Columbia, Maine, Maryland, Massachusetts, New Hampshire, New Jersey, New York, Ohio, Pennsylvania, Rhode Island and Vermont–Dennis Pearson, Coordinator.
Southeast District: Alabama, Florida, Georgia, Kentucky, North & South Carolina, Puerto Rico, Tennessee, Virginia, and West Virginia–Fred Becker, Coordinator
North Central District: Illinois, Indiana, Iowa, Michigan, Minnesota, and Wisconsin–Larry Ahearn, Coordinator
South Central District: (Arizona optional), Arkansas, Kansas, Louisiana, Missouri, Mississippi, Oklahoma, and Texas– Claire McMurray, Coordinator
Independent District: Alaska, (Arizona optional), Colorado, Hawaii, Idaho, Nebraska, Nevada, New Mexico, Montana, North & South Dakota, Oregon, Utah, Washington, and Wyoming–Bennett Rutledge, Coordinator
California District: Jim Spellman, Coordinator
International District: Al Anzaldua, Coordinator
| | |
| --- | --- |
| Earth – Moon – Mars and Stars! Texas-Central Regional Space Development Conference Adds Speakers | |
By Claire McMurray
The one-day TX-Central Regional Space Development Conference hosted by the National Space Society of North Texas chapter will be November 18 at the Embassy Suites by Hilton, Dallas DFW Airport North, Grapevine, TX. An amazing line-up of speakers and exhibitors will delight attendees. Dr. Camille Wardrop Alleyne is Associate Program Scientist for the International Space Station. Kurt Chankaya, a founding member of the Mars Society, judges the Dallas chapter's University Rover Competition. Wally Funk, an early aviation pioneer and pilot, paved the way for women into the NASA space program. Jeff Greason, CEO of Agile Aero (formerly of XCOR) was one of Time Magazine's 2001 "Inventors of the Year" for his team's work on the EZ-Rocket. Rob Kelso, a veteran of 37 years in various NASA flight control and director positions, is also a Director of the National Space Society. For those more interested in what comes from space than what goes up, there's exhibitor Tynessa Morgan-Craft, who will exhibit NASA-certified Moon rocks collected by Apollo astronauts, and also meteorite samples. Ken Murphy, President of the Moon Society, also raises capital for small space industry companies. Finally there's Ken Rufin: Vice-President of the NSS-NT chapter, currently also a Director of the National Space Society, and probably the conference instigator. See https://txcrsdc.org/ for details.


| | |
| --- | --- |
| Phoenix NSS Chapter Plans a Busy Winter | |
By Claire McMurray
All Phoenix NSS speaker meetings are free and open to the public.
November 18: The chapter plans an outreach event at the fourth annual LibraryCon from 12:00pm to 4:00pm at the Southeast Regional Library in Gilbert, Arizona. Mike Makowski, Al Wendler, Greg Rucker, and Phyllis Redhair plan to reinvigorate themselves by going out to eat together afterwards with any other volunteers who come and help out.
December Speaker Event: Chuck Lesher, probably talking about asteroids.
December Potluck Event/Christmas Party: Menu may be traditional or a sandwich theme.
January 17th, 2018: An outing to the Aerospace States Day at the Arizona capitol, hosted by the Arizona Chapter of the Aerospace States Association.
January 20th, 2018: An open speaker meeting featuring Steve (Troy?) Howe, who will speak on nuclear power in space.
February Speaker Event: David Williams, joining the chapter with the United Federation of Phoenix Star Trek club, may talk on dwarf planets or NASA's Psyche mission.
Contact Phyllis Redhair for event dates and locations.
Phoenix chapter's NSS page: http://chapters.nss.org/a/lists/USA/ChapList_AZ.shtml#Phoenix
Howe Industries website http://www.howeindustries.net/about-howe-industries.html
Aerospace States Association: http://www.aerostates.org/
| | |
| --- | --- |
| Share Your Enticing Chapter Pictures | |
By Claire McMurray, Chapters Reporter
The Chapters Committee is updating the NSS Chapters page for a modern cell-phone-compatible look. If you have the rights to an attractive picture that shows your chapter in action, please email it to me: claire.mcmurray@nss.org.
| | |
| --- | --- |
| St. Louis Space Frontier is Busy, Busy, Busy! | |
By Judy Tippett
St. Louis is a very space-oriented town. Every week there are two, three, maybe four events to choose from...all space connected! On Saturday, October 28th we held our fourth annual Gateway to Space conference at the University of Missouri campus, in the Physics and Astronomy Building. On Thursday night, November 2, we attended the AIAA St. Louis Section meeting at Parks College to meet the Missouri Science and Technology Mars Rover Design Team. On Friday night, November 3rd we participated in Stargate at the Science Center's First Friday. Tuesday the 7th found us enjoying a talk by Astronaut Scott Kelly as part of his book tour, Endurance. He got so many laughs from his well timed punch lines, he should have played the Comedy Club at Westport! Thursday night, the 9th we will be presenting at Venture Cafe: a presentation by Christine Nobbe and Tuo Liu promoting Tuo's idea for his Architectural Thesis at Washington University, for a Space Complex in St. Louis, with yours truly as moderator. On November 15, we waited in line to see Buzz Aldrin at Saint Louis University, first come-first served. And that's just two weeks of events! If you are in the St. Louis area, please join our Meetup group and join us at events!


---
Space books keep us informed, stimulate our imaginations of the future of human space travel, and make excellent gifts. Your purchases through the NSS link to Amazon (of books or anything else!) also provide a credit to NSS to use for our educational programs, at no cost to you. Check out these new titles at NSS Reading Space:

Non-Fiction Book: Apollo Pilot: The Memoir of Astronaut Donn Eisele by Donn Eisele, reviewed by Clifford R. McMurray. Donn Eisele may be the least famous of the Apollo astronauts even though he was pilot of the first Apollo flight into space. This is a posthumous memoir; Eisele died in 1987, thirty years before this was published. Eisele had some scores to settle when he sat down to write, and he didn't hold anything back. He was the first to break the taboo against divorce for astronauts, and the book contains an afterword by his second wife Susan Eisele Black, in which she details the cloud that hung over the couple among Eisele's fellow astronauts and their wives. Worth the attention of anyone interested in the whole, very human story of the flight that put the Apollo program into space for the first time.

Don't forget to check the archives for books you may have missed, including some classics. Use the "MORE" links to read over 300 reviews of nonfiction, fiction, and children's books.
---
| | |
| --- | --- |
| Space News Roundup | |
By Edward Ellegood, Florida Space Report

Commercial Cargo Program a Bargain for NASA (Source: Ars Technica)
It has generally been assumed that NASA will save money by spurring the development of services by US companies to supply the International Space Station, but such conclusions have largely been based on estimates. Now, a rigorous new review authored by a NASA analyst, and published by the American Institute of Aeronautics and Astronautics, offers a clear answer to this question. According to the new research paper by Edgar Zapata, who works at Kennedy Space Center, the supply services offered by SpaceX and Orbital ATK have cost NASA two to three times less than if the space agency had continued to fly the space shuttle. For his analysis, Zapata attempted to make an "apples to apples" comparison between the commercial vehicles, through June 2017, and the space shuttle. Specifically, the analysis of development and operational expenses, as well as vehicle failures, found that SpaceX had cost NASA about $89,000 per kg of cargo delivered to the space station. By the same methodology, he found Orbital ATK had cost $135,000 per kg. Had the shuttle continued to fly, and deliver cargo via its Multi-Purpose Logistics Module, it would have cost $272,000 per kg. (11/8)

SEDS Conference Brings Space-Minded Students to Cape Canaveral (Source: UCF)
Join hundreds of passionate young professionals and students for the annual national conference of Students for the Exploration and Development of Space. The conference is run and organized entirely by students, and will run from November 16-18. SpaceVision 2017 will be held at Radisson's Resort at the Port in Cape Canaveral. Experience our interdisciplinary approach to the future of space development and witness our commitment to student leadership in aerospace and STEM fields. Click here. (11/8)

Senate Committee Narrowly Backs Trump Pick for NASA Chief (Source: Orlando Sentinel)
A Senate committee on Wednesday narrowly backed President Donald Trump's nominee to serve as the next NASA chief. Republicans on the Senate Commerce, Science and Transportation Committee used their slender majority to overcome objections from Democrats to advance the selection of Rep. Jim Bridenstine, R-OK. The party-line vote was 14-13. Bridenstine, 42, is serving his third term representing a conservative district in northeast Oklahoma. Democrats criticized past comments he made dismissive of global warming as a man-made problem. They also voiced concern about Bridenstine's harsh criticisms of Democratic lawmakers and fellow Republicans over the years, and questioned whether he would keep the space agency from being mired in political battles. (11/8)

Apollo 12 Astronaut Dies (Source: CollectSpace)
Dick Gordon, who flew to the Moon on Apollo 12, has passed away. Gordon died Monday at the age of 88, and the cause of death was not released. Gordon, part of NASA's third astronaut class, flew with Pete Conrad on Gemini 11 in 1966, performing two spacewalks. He was the command module pilot on Apollo 12, remaining in lunar orbit while Conrad and Alan Bean walked on the Moon. Gordon was in line to command Apollo 18 and walk on the Moon himself, but that mission was cancelled. After leaving NASA in the early 1970s, he held several executive positions in industry, ranging from energy and engineering companies to executive vice president of the NFL's New Orleans Saints. He was inducted into the U.S. Astronaut Hall of Fame in Florida in 1993. (11/7)

NASA Opens $2 Million Third Phase of 3D-Printed Habitat Competition (Source: Space Daily)
Future missions to the Moon, Mars and beyond will require innovative options to shelter our explorers, and we won't be able to carry all of the materials with us from Earth. NASA's 3D-Printed Habitat Challenge, a Centennial Challenges competition, seeks ways to create or develop the technologies needed to create such habitats on-site, and challenges citizen inventors to lead the way. Today, NASA and challenge partner Bradley University of Peoria, Illinois, announce the opening of Phase 3 of the competition for team registration. (11/8)

The Entrepreneurial Space Age (Source: Space Angels)
Increased access to space has lowered the barriers to entry, ushering in a new wave of entrepreneurial space ventures. With companies like SpaceX and Blue Origin addressing the heavy lift segment of the launch market, companies like Vector Space Systems are addressing the burgeoning market for small satellites. Vector is now on track to begin commercial flights of their Vector-R vehicle next year and in this episode, we interview Jim Cantrell, the company's CEO, and we ask him about his plans to provide affordable and reliable access to space through their family of small launch vehicles. Click here. (11/2)

Commercial Spaceflight Is About to Get Real (Source: Bloomberg)
Next year will mark the 50th anniversary of the first manned lunar mission, during which three Apollo 8 astronauts orbited the Moon and gave the U.S. a decisive lead in its space race against the Soviet Union. These days, with NASA's milestones receding in the national memory, Russian spaceships are the ones ferrying American astronauts to and from the International Space Station (ISS). If all goes well, that will change in 2018. This moment is a big one for the handful of companies that have spent much more than a decade working toward commercial spaceflight. Boeing and SpaceX are preparing to bring NASA scientists to the ISS by this time next year, not long after five teams race unmanned landers to the Moon to win the $20 million Google Lunar XPrize. Richard Branson's Virgin Galactic LLC and Jeff Bezos' Blue Origin LLC have suborbital flights scheduled. Rocket Lab USA Inc. and Virgin Orbit, Virgin Galactic's satellite arm, expect to begin launching satellites. And SpaceX plans to use its own astronauts to reprise 1968's history-making flight. Click here. (11/6)

Trump Administration Wants to Put Americans Back on the Moon (Source: Public Radio International)
The newly revived National Space Council calls for a return to the Moon and the development of a base there. "I definitely think this is much more of a political shift in terms of the priorities of this administration, and you can read into it what you will. I think one major reason for the shift is you have the executive director of the National Space Council, which is Scott Pace, and he's made it very clear that he thinks NASA is a great tool for international cooperation. And right now in the international community, the Moon is hot — a lot of state agencies want to go there." (11/5)

Blue Origin's KSC Rocket Factory Coming Together Ahead of December Opening (Source: Florida Today)
Blue Origin, the rocketry company founded by Amazon CEO Jeff Bezos, appears to be putting the finishing touches on its massive factory at Kennedy Space Center. Crews recently installed bright "Blue Origin" logos on the sides of the white-and-blue building, which sits just west of the spaceport at Exploration Park. Two massive, yellow crane rails were also transported to the factory last week. The 750,000-square-foot facility will assemble 270- and 330-foot variants of the company's reusable New Glenn rockets, which will launch from about 10 miles away at Cape Canaveral Air Force Station's Launch Complex 36. The factory will also function as launch control for Blue Origin's missions due to the pad's proximity and advances in automation. (11/3)

Mars City Living: Designing for the Red Planet (Source: MIT Technology Review)
How will people live on Mars? An MIT team developed a design concept addressing this question as part of Mars City Design 2017, an international competition focused on sustainable cities on Mars to be built in the next century. MIT's winning urban design, titled Redwood Forest, creates domes or tree habitats that can each house up to 50 people. The domes provide open, public spaces containing plants and abundant water, which would be harvested from the northern plains of Mars. The tree habitats sit atop a network of underground tunnels, or roots, providing access to private spaces and easy, shirt-sleeve transportation to the other tree habitants in the community of 10,000. In addition to connectivity, the roots offer residents protection from cosmic radiation, micrometeorite impacts, and extreme thermal variations. Click here. (10/31)
| | |
| --- | --- |
| Space Quotes to Ponder | |
Collected by Author Sylvia Engdahl

"Colonization means potential immortality for the human genus. Man's safety on Earth was never great, and it dwindles hourly. Disarmament, even world government, will not guarantee survival in an age when population presses natural resources to the limit and when the knowledge of how to work mischief on a planetary scale is ever more widely diffused among peoples who may grow ever more desperate." - Poul Anderson, Is There Life on Other Worlds?, 1963

"Space exploration must be undertaken not only out of simple human curiosity but also to further the survival of the species. The twentieth century has seen the unprecedented development and proliferation of magnificent technologies. Many of them, through design, ignorance, or misuse, are capable of destroying life as well as enhancing it. Space exploration alone holds the promise of eventual escape from a dying planet, provided we wisely manage our resources in the meantime and actually survive that long." - Astronaut Edgar Mitchell, The Way of the Explorer, 1996

"I would not see our candle blown out in the wind. It is a small thing, this dear gift of life handed us mysteriously out of immensity. I would not have that gift expire... If I seem to be beating a dead horse again and again, I must protest: No! I am beating, again and again, living man to keep him awake and move his limbs and jump his mind... What's the use of looking at Mars through a telescope, sitting on panels, writing books, if it isn't to guarantee, not just the survival of mankind, but mankind surviving forever!" - Ray Bradbury, Mars and the Mind of Man, 1971
| | |
| --- | --- |
|   |  UPCOMING CONFERENCES AND CONVENTIONS |
---